Love always starts off like a fairytale, but anyone that has been married knows it's far from a fairytale. When people give you marriage tips, they don't always tell you how hard it's going to be. There are going to be disagreements and hard times. Nothing worth fighting for comes easy! But most couples will always tell you that marriage is worth all those hard times and it's really about what you do with the hard times that matters in the end.
If you are getting ready to get married there are several things you need to discuss with your partner before you get married. Believe me, taking time to discuss these important issues will save you a lot of heartache down the road.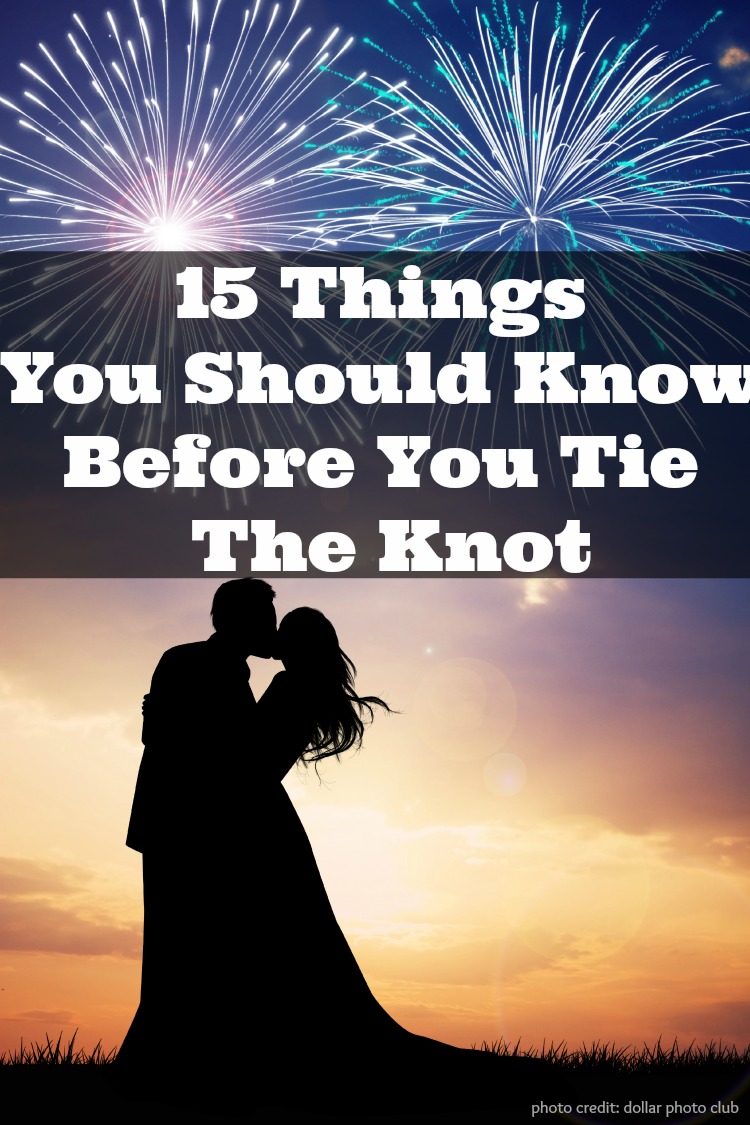 15 Things You Should Know Before Marriage
1. Financial Habits – Money is never an easy topic, but it's one that needs to be discussed before you tie the knot. In most relationships, one person is the spender and one is the saver. Figure out this out before you get married! Also discuss joint and separate bank account options and if one person will primarily handle the finances.
2. What Religion Your Kids Will Be Raised – For some couples this is a major issue! Take the time to discuss it before you are married with kids. Tread lightly as it is a sensitive topic.
3. Holiday Traditions – Where will you and your spouse spend Christmas, Easter, Thanksgiving and other holidays? Will you go to his parents house one year and your parents the next year? Or maybe you'll host the events in your home. Talk about these things ahead of time and have a game plan. It will make the holidays less stressful.
4. How Many Kids You Want – Maybe you want 4 kids and your partner only wants 1. Of course the number can always change but it's nice to have an idea of how many kids you each want.
5. What Intimacy Means To Each of You – Intimacy is HUGE in any relationship! For some intimacy might mean a quick hug and sex once a week. For others, it could mean snuggling on the couch every night for a few hours and sex several times a week. Talk about this ahead of time so that you are both on the same page.
6. Political Views – This doesn't always matter in a relationship, but there are those people that consider political differences a deal breaker. Get to know your partners political beliefs and decide if it's something your going to be okay with. Remember you can't change your partner, you have to accept him or her for who they are.
7. How Each Other Fights – Some people scream and yell during fights while others completely shut down. How does your partner fight? Are you able to communicate and work out any arguments? Figure this out now.
8. Each Others Love Language – Trust me, this is something you want to know! Finding out your spouse's love language will make marriage so much easier.
9. Life Goals – Are there any specific life goals your partner should know about? Do you want to retire by 40, buy a house by 25, travel the world or any other very specific goals? If so discuss these with your partner so they aren't blind sided when you bring these goals up later in life.
10. Any Bad Habits – Lay it all out on the table! Tell your partner all the bad habits you can think of cause we all have them. It might be embarrassing at first, but they're going to find out eventually anyway.
11. Household Duties – One of the #1 things married couples fight about is the division of household duties. Maybe you love doing dishes but hate doing laundry, bring these things up with your partner now. Set expectations on how each of you will contribute to household duties.
12. Career Goals – Working towards a career goal can mean sacrificing a lot of time away from your family. Or maybe you're goal is to be a stay at home mom. No matter what your career goals are, talk them over with your partner. It's always nice to know these things up front.
13. How to Set Boundaries with Friends and Family – Going from single to married can be a huge transition for not only you but for family and friends as well. How involved will your family be in your marriage? Will you set boundaries? Does your future husband still want to go out with friends every Friday night? Friends and family can become a big problem in your life if there aren't boundaries put into place.
14. Location – Are you both in agreement on where you'd like to live? If not start discussing this now!
15. Sleeping Habits – As minor as it sounds, it can be a problem. Maybe you like to sleep with the television on but your spouse likes complete darkness. Talk through this as getting a good nights sleep makes life so much better!
If you enjoyed this post make sure to read my post on the 4 Books All Married Couples Should Read