Have you ever tried a Foil Packet Meal? I tried my first one the other night and it so yummy! We go camping a ton during the summer, so this is going to be a great camping meal. Speaking of camping, check out these camping hacks next time you head to the woods.
Technically, you can do this foil packet meal on the bbq but we did ours on the ground over some hot coals. Either way, it will be fine and just as yummy.
If you want a yummy side dish, try doing foil packet vegetables. You can use the onions, peppers and add in some red potatoes. It's a quick side dish that's tasty and pretty healthy!
You can get pretty creative with the meals you cook in foil packs.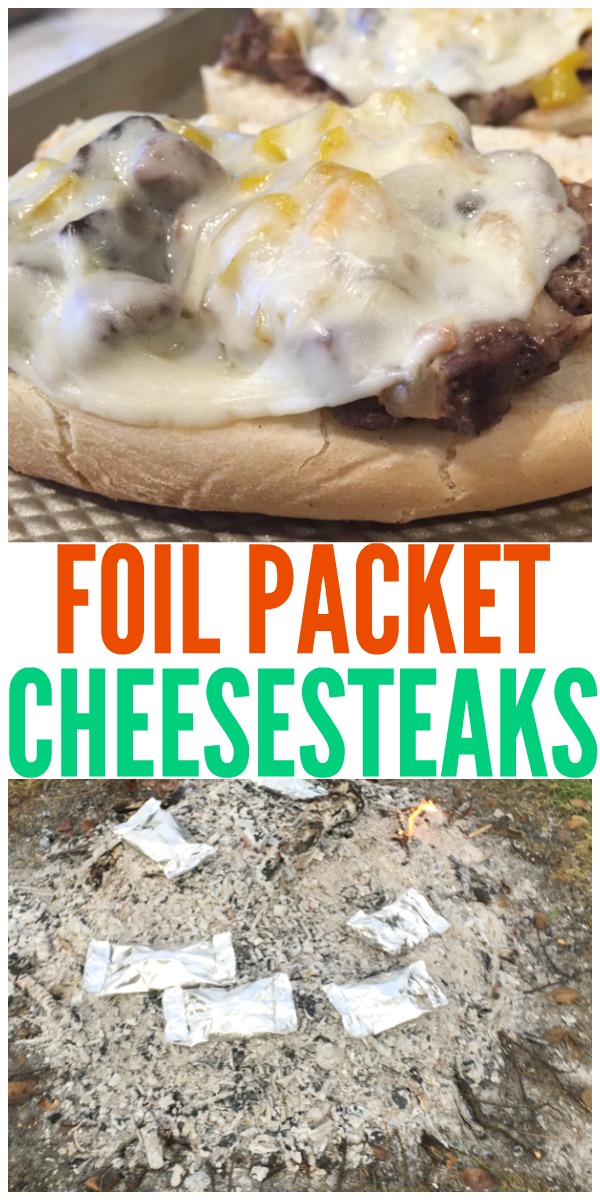 Foil Packet Meal | Cheesesteak Sandwich
Ingredients:
1 pound of rib-eye or skirt steak. Skirt steak is usually cheaper
Green bell peppers
White or yellow onion
Provolone cheese
Balsamic portobellos (optional)
1/2 tsp. salt
1/4 tsp. pepper
1/4 tsp. garlic powder
Sliced sourdough or french bread
Foil
Directions:
Step 1: Slice your steak into thin strips.
Step 2: Slice up your peppers and onions
Step 3: Dice up your mushrooms if you are using them.
Step 4: Combine your steak, peppers, mushrooms, onions, salt, pepper and garlic powder into a bowl. Make sure everything is well combined.
Step 5: Add equal amounts to each slice of bread and top with cheese.
Step 6: Wrap each cheesesteak in foil.
Step 6: Place foil packets on the bbq or on hot coals for 10 to 15 minutes.
Be careful when removing the foil packets from the grill or coals as it will be hot!
This meal is perfect for camping or just a fun meal on the grill. The kids loved making this one and I'm sure we will be trying more foil packet meals in the near future.
If you enjoyed this post, make sure you check out my other popular posts!