Mother's Day is the perfect chance to celebrate and spoil the mother in your life, whether she's your mother or the mother of your children. While the typical flowers and dinner are great and a really sweet way to show a mother she's loved, there are some more creative ways to celebrate mom. If you need a little inspiration, check out my list of fun Mother's Day activities!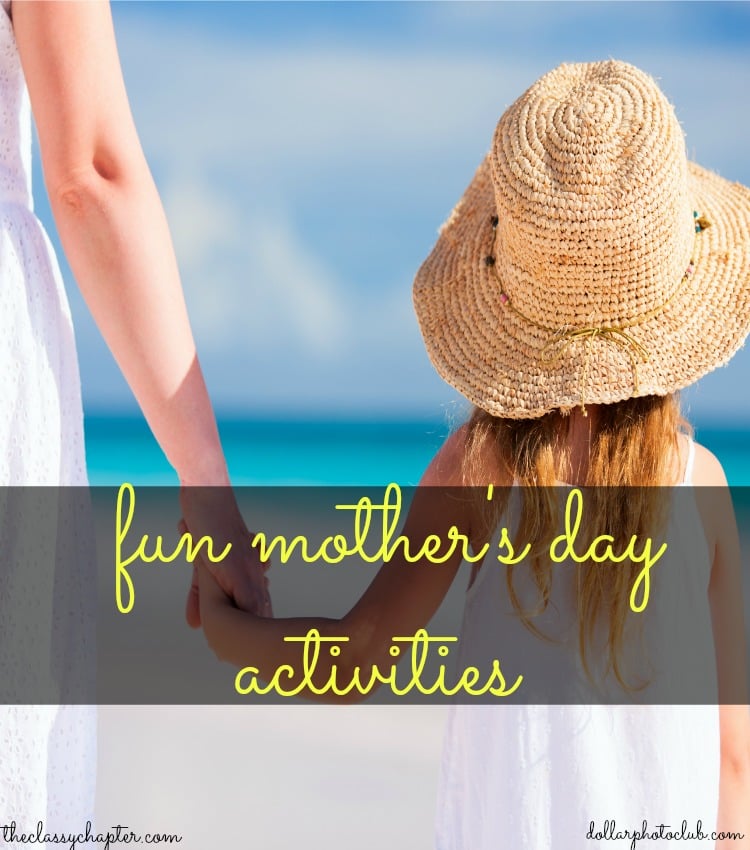 Mother's Day Activities
Celebrate Mother's Day this year by getting up and out of the house! Do something special for yourself or your mom.
Spa Day
This should go without saying. Splurging and getting the mom in your life a day at the spa is always a good idea. Whether it's a simple mani/pedi or a more extensive massage and relaxation treatment, there's no doubt she'll appreciate the effort.
Go for a Picnic
Instead of going out for a fancy dinner, do something a little more personal. Put together some of her favorite foods and pick a favorite location and head out! This is a great way to get the kids involved, too. They can help pack the basket and even help prepare the food.
[Tweet "Ready for Mother's Day? Here are some great #MothersDay activities! "]
Have a Staycation
If you don't have the time, or budget, to take a vacation for Mother's Day, bring the vacation home. Have a theme day, where everything is based on the culture of her favorite city or country. Base all the meals on food from that place and do some activities from that culture, too.
Have a Small Getaway
If you do decide to take a trip, you don't have to go very far. Visiting a nearby town or a different part of your own city can be just as exciting as going somewhere further away. You can go for the day or even a weekend.
Revisit the Past
Put together a slideshow of pictures from the past or even video clips. This walk down memory lane will be fun for the kids, who will love to see how their parents looked when they were younger. But, seeing videos and photos of her wedding day and the birth of her children will touch the heart of the mother in your life.
Have an Experience
Do something different! If you've talked about doing something adventurous for a while, this is your chance to do it! Go rock climbing. Rent a boat. Visit the winery you've always talked about.
[mailerlite_form form_id=1]
Play Games
Spend some time together over a [easyazon_link identifier="B00CV5PN2W" locale="US" tag="morbo-20″]board game[/easyazon_link] or even one of her favorite sports. A little activity never hurt anyone.
Do some Crafts
Create a memory book or do another craft that the whole family can be involved in. Then you'll have lasting memories of the day!
Plant a Garden
Instead of buying her flowers that will die eventually, pick some of her favorite plants and find a place for them in your garden. They'll be a lasting memory of this Mother's Day.
Create a Memory
If you have time, prepare to have a portrait done or something else that will memorialize the family.
Need a fun craft idea for mom? Check out this easy DIY craft: Homemade Bath Salts