I'm not following a gluten-free diet but I was at a friends house and she introduced me to these gluten-free brownie donuts and they were Ahhh-mazing!

Gluten-Free Brownies Donuts
There is nothing wrong with enjoying a healthier dessert. Especially when it tastes as good as this one does.
Seriously, my kids had no idea this was a "healthy" donut. In fact, they went back for more.
I know I mentioned that I'm not following a gluten-free diet, which is true.
However, I am currently on Weight Watchers. I love Weight Watchers because you can eat whatever you want but you have to account for the points.
Weight Watchers is a lifestyle change and not a diet. Weight Watchers teaches you how to make better food choices and helps you learn portion control.
All the things I desperately need to know!
I love my sweets but I'm not willing to spend 10+ points on a dessert when I get 23 points a day.
These brownie donuts are only 3 points, which is kind of amazing for a chocolate dessert.

To get started, you'll need the following ingredients:
Gluten free flour
Brown sugar
Unsweetened cocoa powder
Baking soda
Salt
Coffee
Unsweetened applesauce
Apple cider vinegar
Margarine
Vanilla extract
Powdered sugar
Where can I find gluten-free flour?
Most grocery stores carry gluten-free flour. However, you can also purchase it on Amazon.
Can you freeze these brownies?
Yes! Keep in mind that freezing them can dry them out, so I suggest wrapping them individually in plastic wrap before placing them in a freezer bag. This will help keep the brownies moist.
How many can you have for 3 points?
Each brownie is 3 points!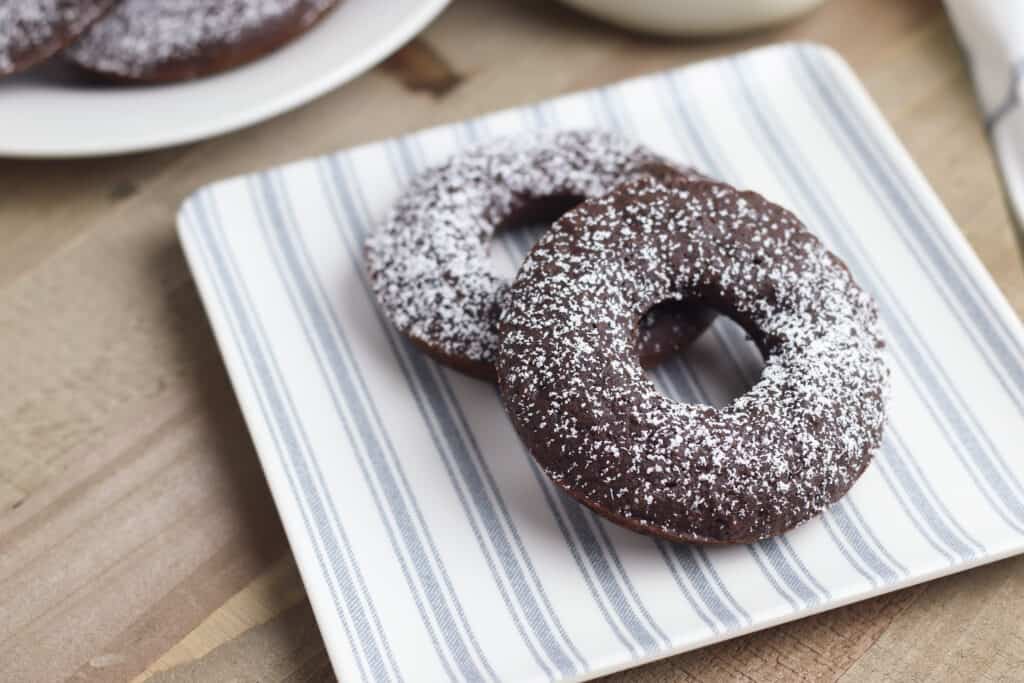 Gluten Free Brownie Donuts
Ingredients
¾ cup gluten free flour
½ cup brown sugar
3 tablespoons unsweetened cocoa powder
½ teaspoon baking soda
¼ teaspoon salt
½ cup coffee
1/3 cup unsweetened applesauce
½ teaspoon apple cider vinegar
1 teaspoon margarine, melted
½ teaspoon vanilla extract
1 teaspoon powdered sugar for topping, optional
Instructions
Preheat oven to 350 degrees and prepare donut pans by greasing with nonstick cooking spray.
In a large bowl, combine gluten free flour, brown sugar, cocoa powder, baking soda, and salt. Whisk to combine.
In a separate bowl, mix together coffee, unsweetened applesauce, apple cider vinegar, melted margarine, and vanilla extract. Pour wet ingredients with dry ingredients and mix until just combined.
Spoon batter into donut pan and bake for 12 to 15 minutes. Allow to cool in the pan for a few minutes then remove from pan and place on a wire rack to cool completely. Top with powdered sugar before serving (optional).