The flavors in this watermelon drink are flat out delicious! You are going to love this margarita. Normally, you could use a simple syrup to sweeten this drink but today we are using lemongrass and a ginger simple syrup. Yum!
It was an experiement for sure but the results are pure heaven!

Watermelon Drink | Delicious Watermelon Margarita
Ingredients:
3 cups fresh seedless watermelon, cut into small chunks
2 t. lime zest
¼ cup fresh lime juice – approximately 2 whole limes
4 oz. white tequila
2 oz. triple sec
ice
ginger simple syrup, to taste
small watermelon wedges, for garnish (optional)
For the Rim:
3 T. coarse Himalayan sea salt, crushed
1 T. red chili powder (optional)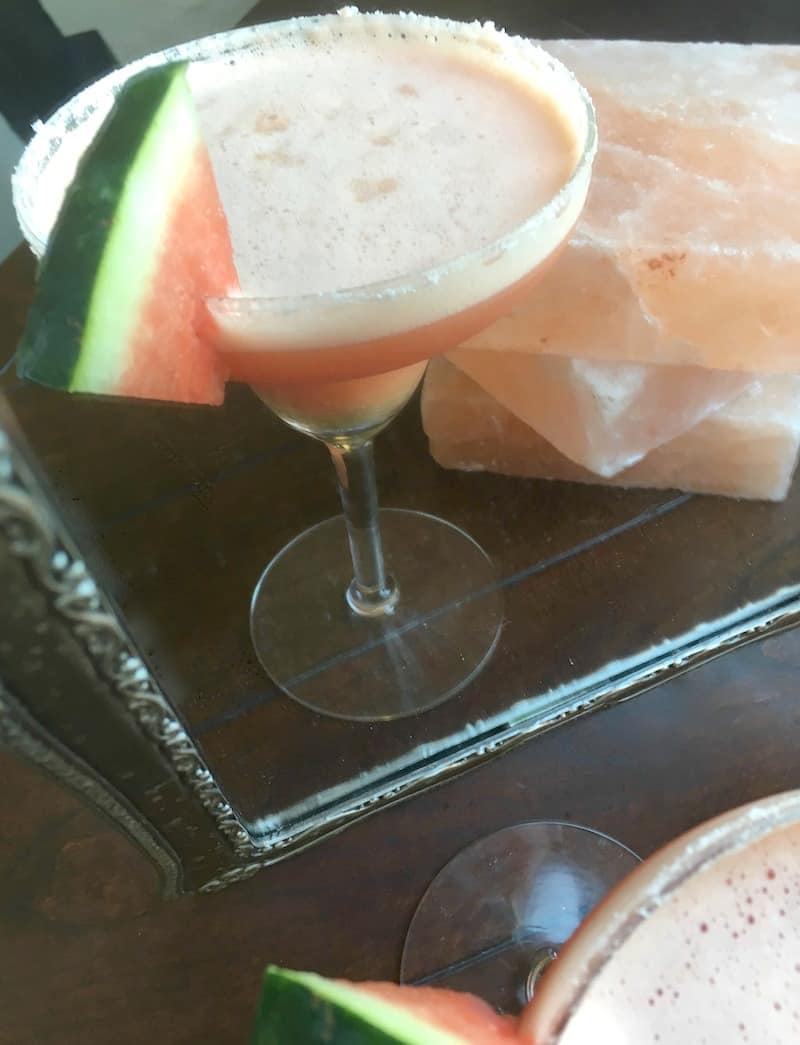 Directions:
To line the rim of the margarita glasses, grind some coarse Himalayan salt in a coffee grinder or blender. (It will get dusty). Add the ground salt and chili pepper (if desired) to a shallow plate. Then, moisten the outside rim of each glass with a piece of fruit. Turn the glass at a 45-degree angle and roll it around in the salt or salt mixture on the plate.
Use a damp paper towel to tidy up the bottom edge so you have a nice line. Adding the salt to the outer edge only will prevent it from getting into your drink and affecting its taste.
To make the ginger simple syrup, add 1 cup water and 1 cup white sugar to a medium saucepan. Peel a 3" piece of fresh ginger and chop into small pieces before adding the pan. The smaller you cut each piece, the more surface area you will expose to the boiling sugar mixture. Bring mixture to a boil, then reduce heat. Simmer for 30 minutes. Remove from heat and allow to cool.
Place all ingredients except the simple syrup into a blender. Blend on high until pulverized. Pour into a small testing glass to taste. Adjust ingredients to balance the flavors to your liking. If needed, drizzle some simple syrup into the blender and blend until you reach the desired sweetness.
Pour into prepared margarita glasses and serve immediately.