4th of July Cupcakes are not only easy to make but are always a hit at those summer BBQ's. These cupcakes are made in a jar which really adds a festive element to them.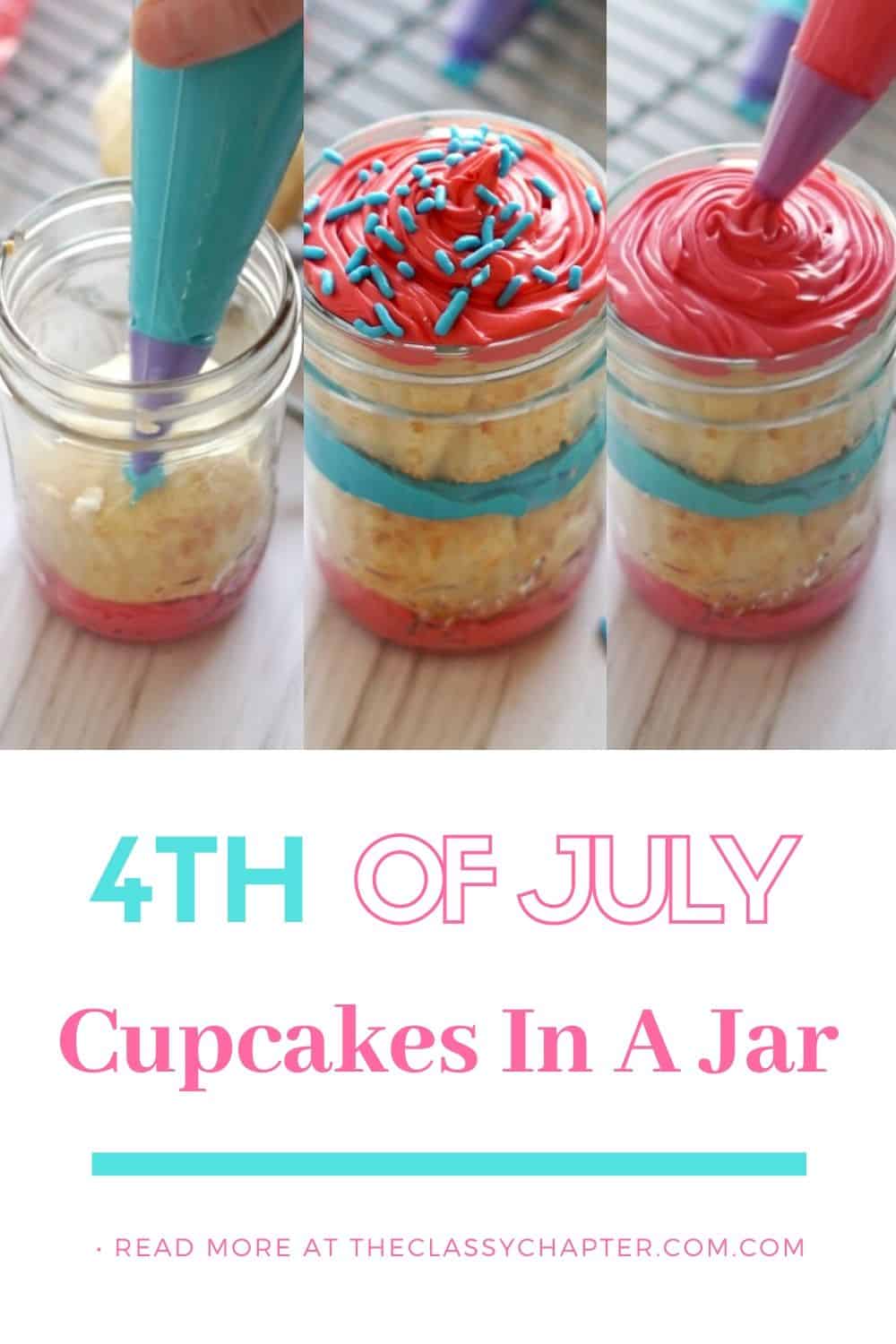 As summer approaches, I can't help but get excited for all those summer parties AND the 4th of July. It's seriously one of my favorite holidays.
The 4th of July reminds me of family and friends. It's a time to get together, eat delicious food, let the kids play, enjoy some time in the pool and of course celebrate the freedom of our amazing country.
Easy 4th of July Cupcakes
To make these cupcakes, you'll need to have the following:
White Cake Mix
Butter
Milk
Egg whites
Creamy Homestyle Cream Cheese Frosting
Blue and Red Food Coloring
Holiday Sprinkles
8oz Mason Jars
While this recipe is for the cupcakes in a jar, you can make them as a traditional cupcake.
I like making them in a jar as it really adds another element and they look so pretty!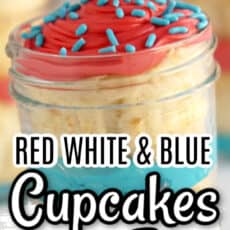 4th of July Cupcakes
4th of July Cupcakes in a Jar
Ingredients
1

box

White Cake Mix

1/3

cup

Melted Butter

1

cup

Milk

4

eggs, ONLY THE WHITES

2

jars

Cream Cheese Frosting

Blue and red food coloring

Colored SprinkSprinkles

15

8 ounce mason jars
Instructions
Preheat oven to 350 degrees.

Add in cake mix, milk, and egg whites and mix well.

Spoon into cupcake liners filling about ⅔ full

Reduce oven temperature to 325 degrees.

Bake for 15-20 minutes or until a toothpick comes out clean (do not over cook).

Remove from oven and let cupcakes cool completely.

Separate frosting into two separate bowls and color with red or blue food coloring until desired color.

Put a layer of icing in the bottom of the mason jar (I used a piping bag).

Then add a cupcake layer.

Alternate frosting color and then add another layer of cupcake.

To finish, garnish with sprinkles and enjoy!
Recipe Video