Instant Pot Tamales? Yes, please!
I'm a sucker for good Mexican food. I don't care what it is, I'll eat it!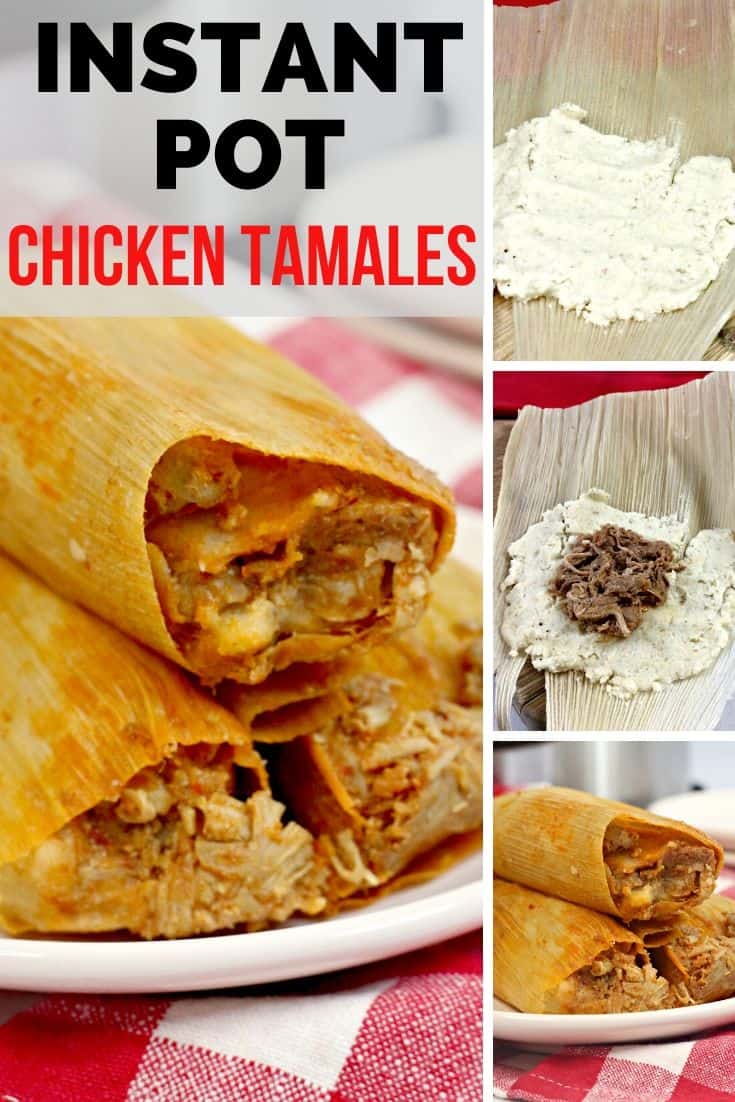 Instant Pot Easy Chicken Tamales
With that said, I'm extremely picky with my Mexican food. It needs to have flavor, don't come at me with some bland Mexican food.
This recipe will serve between 16 and 20 people. If you are looking to feed a larger crowd, simply double everything.
Commonly Asked Questions:
Can I freeze these tamales?
Yes, you can definitely freeze these chicken tamales. I like to dethaw them in the fridge but you can also use the defrost option on your microwave.
Can I use a different filling?
You most certainly can. You'll just need to adjust the cooking time for the meat you select.
I don't understand how to wrap the tamales.
I agree wrapping tamales have always been a bit tricky for me. Personally, I go to YouTube. Here is a video that has helped me.
Are tamales only served at Christmas?
They are a popular item at Christmas but they can be served all year long. We have tamales several times a year.
I'm currently on Weight Watchers, how many points are these tamales?
I'm currently on the blue plan and this recipe comes out to 2 points per tamale. Trust me when I say I end up spending around 6 points eating these, one is never enough!
Which Instant Pot do you have?
I'm using the Instant Pot Duo. You can see it here.
To make this recipe, you'll want to ensure you have the following items on hand:
Rotisserie chicken (if you are on Weight Watchers, only use the white meat)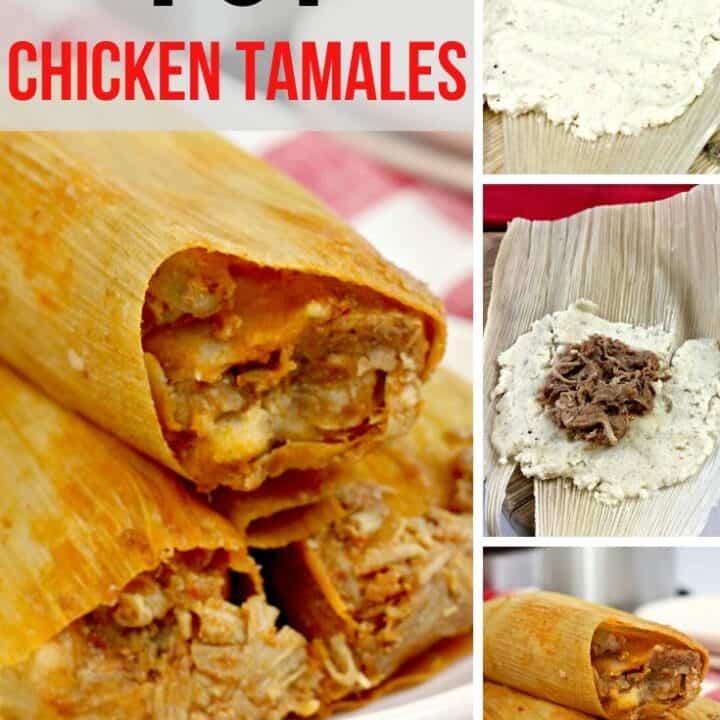 Instant Pot Tamales
Total Time:
2 hours
35 minutes
Easy Instant Pot Chicken Tamales
Ingredients
2 tbsp. olive oil
4 cups roja salsa
¾ lb cooked rotisserie chicken
1 tsp. Salt
1 Tsp. Smoked paprika
1 Tsp. Cumin
1 cup chicken broth
For the tamales:
16-20 Corn Husks
2 1/2 cups prepared masa
1 cup of Water
Instructions
Corn Husks:
In a large pot soak the corn husks in water on low for 2 hours.
Drain water.
Set on saute in your Instant Pot add the olive oil.
Shred the rotisserie chicken, and add to the pot.
Make sure to have ALL bones and skin removed.
Add the Salsa Roja, cumin, paprika, and chicken broth.
Stir to combine.
Bring to a simmer and cook for 5 minutes.
Turn heat off and let cool.
Remove the chicken and place in a bowl to the side.


Tamales:
Prepare masa as directed on the masa bag.
Smear a thin layer of prepared masa on each corn husk.
To the middle of the masa layer, add a small scoop of the chicken filling.
Fold the corn husk like wrapping a gift. The sides folded in first then the ends.
Place the tamale on a tray side edges down.
Set aside.
Repeat until you are out of chicken filling.
Place the steam rack on the bottom of the Instant Pot.
Add 1 cup of water.
Place all the uncooked tamales on the rack, standing upright.
Make sure to pack them in to limit movement .
Lock the lid in place.
Turn the valve to "SEALING."
Set the Instant Pot to pressure cook at high pressure 35 minutes.
When the pressure cooking is done, let the steam release for a few minutes.
Then turn the valve to "venting."
Remove the lid.
Enjoy!
Nutrition Information:
Yield:

20
Serving Size:

1
Amount Per Serving:
Calories:

210
Total Fat:

5g
Saturated Fat:

1g
Trans Fat:

0g
Unsaturated Fat:

3g
Cholesterol:

17mg
Sodium:

593mg
Carbohydrates:

36g
Fiber:

4g
Sugar:

7g
Protein:

10g
This nutional data is an estimate, you'll want to check the labels on the products you have.