Blackened Chicken Thighs is one of those dishes that you just can't seem to get enough of. Well, my family can't anyway.
I am always on the lookout for great chicken recipes. My family loves chicken and I love that it is an inexpensive protein. I purchase chicken thighs that have the bone in and the skin on. Within minutes I can get the skin off and the thigh deboned. Buying any type of chicken this way will save you money. Of course, if you are in a rush, you can use thighs that are boneless and skinless.
Blackened Chicken Thighs
Author:
Blackened Chicken thighs is a quick and easy meal. The amount of heat can be adjusted to suit your family. We love it hot!
Ingredients
8 chicken thighs
1/4 Cajun Spice blend
2 Tablespoons canola oil
Cajun Spice Blend
4 tsp dried oregano
4 tsp dried thyme
4 tsp garlic powder
2 tsp onion powder
2 tsp black pepper
2 tsp paprika
1 tsp kosher or coarse salt
1/2 tsp ground cayenne pepper
Instructions
Preheat oven to 350 degrees
In a small bowl, mix your cajun seasonings
Sprinkle the chicken evenly on both sides with the seasoning. Rub in.
Add canola oil in large ovenproof pan (I use a cast iron pan) and heat oil to medium.
Sear the chicken on each side until the spices turn dark but are not burned.
Finish chicken in the oven. Cook until chicken reaches an internal temperature of 165 degrees. The time will range depending on the size of the thighs – about 15 minutes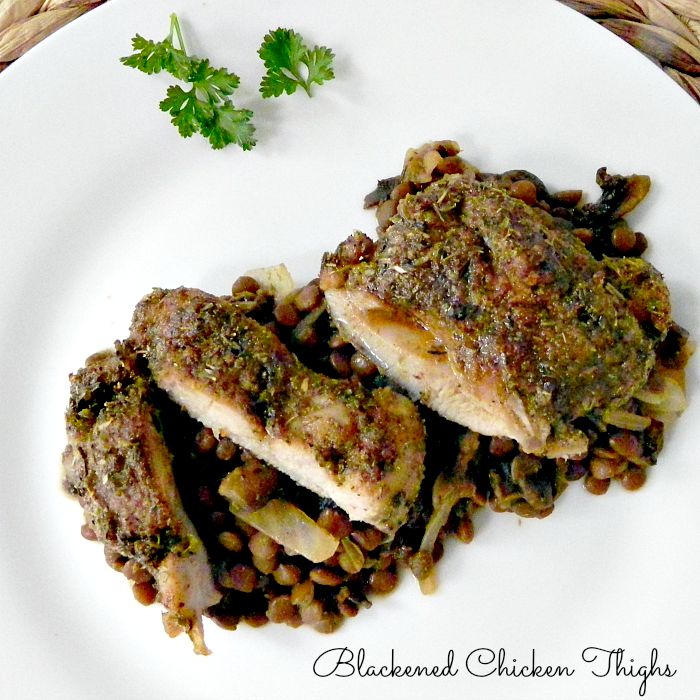 It is possible you will have some of the Cajun Spice mix left. Don't throw it out. Use it on a rice dish, another meat dish or anything you want to add a little spice to. Now remember, you can tone down the amount of cayenne pepper if you would like. Little ones may not be able to take the heat.
I served this chicken over lentils that had been cooked with onions and mushrooms. The blackened chicken would go well with rice (brown or white) or roasted potatoes.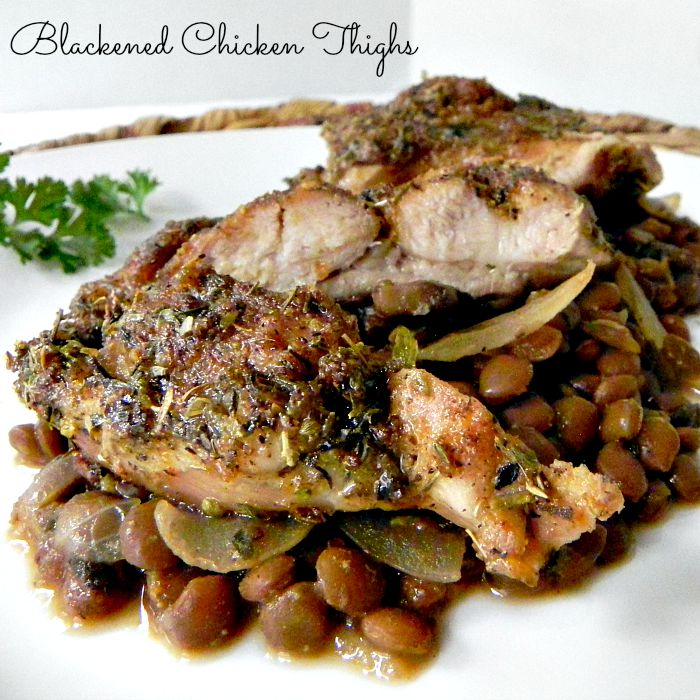 So, do you think this will be on your dinner table soon? This recipe doesn't take long to make, is an easy recipe and uses few ingredients.
[mailerlite_form form_id=6]
If you enjoyed this post, be sure to check out other posts on The Classy Chapter!