I've mentioned my chocolate bacon love affair before and it hasn't slowed down yet. I'm always on the hunt for the best bacon recipes and I think I've found yet another!
This should also be on your list of easy to make dessert recipes.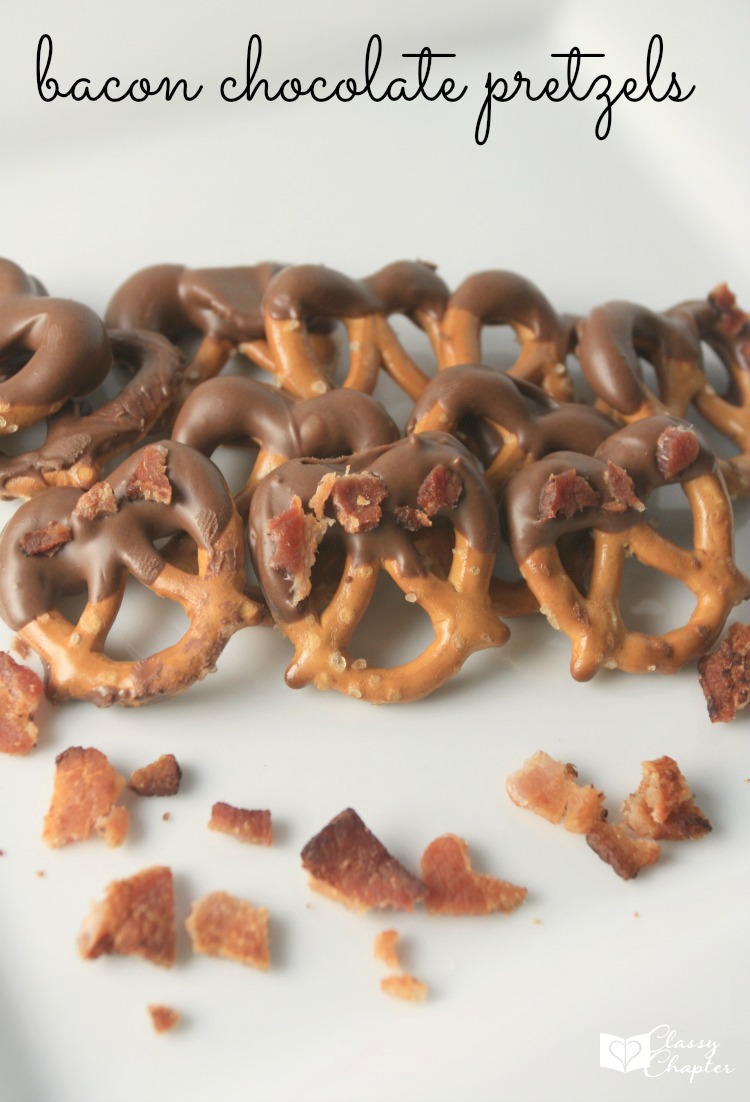 Chocolate Bacon Pretzels
I know some of you are scared to try the chocolate bacon mixture, but it's so good. A lot of sweet with a hint of saltiness is the perfect combo.
I highly suggest purchasing very good bacon, the thick stuff from the butcher works great! I have found that thin inexpensive bacon doesn't work as well.
Ingredients:
1 bag of pretzels
1 bag of chocolate chips
1/2 pound of good quality bacon
Wax paper
Directions:
Before you even get started get your area fully prepped. Line a baking sheet with wax paper. You'll also want to get a plate out and line it with paper towels for the bacon.
Step 1: Cook your bacon in a skillet until it's nice and crispy. Place cooked bacon on a plate that has been lined with a paper towel. Once the oil has been absorbed chop bacon into very small pieces and set aside.
Step 2: Put your chocolate chips into a microwave bowl and microwave in 45 second increments, stirring in between until chocolate is melted.
Step 3: Combine bacon into the bowl of chocolate, reserving some bacon to garnish the pretzels.
Step 4: Dip each pretzel into the chocolate bacon mixture covering at least half of the pretzel.
Step 5: Place chocolate covered pretzels on your lined baking sheet, garnish with bacon and place in the refrigerator for at least 20-minutes to let the chocolate harden up.
Pretzels can be stored in the refrigerator for up to ten days. Enjoy!
[mailerlite_form form_id=6]