Do you love easy home cooked recipes? If so you'll love this one! A nice warm bowl of soup is one of my favorite things to eat during the winter month. Homemade chicken noodle, posole, vegetable soup are all at the top of my list! But you know what blows all of those away? Louisiana Beer Cheese Soup!
If you've never had this before you are seriously missing out. This stuff is amazing! Loaded with flavor and yummy goodness.
This is a recipe that your friends and family will be begging you to make.
Louisiana Beer Cheese Soup
I don't think I've ever had a soup with so much flavor! My favorite part about this soup is it's so easy to make.

Louisiana Beer Cheese Soup
Easy to make and packed with flavor! You can't go wrong with this Louisiana Beer Style Soup!
Ingredients
1 cup diced carrots
1 cup diced onion
1 cup diced celery
3 cloves garlic, minced
1 teaspoon hot pepper sauce
¼ teaspoon cayenne pepper
½ teaspoon salt
½ teaspoon black pepper
3 cups chicken broth
2 cups beer ( I used Blue Moon)
⅓ cup butter
⅓ cup flour
2 cups milk
2 cups half and half
6 cups shredded cheddar cheese (mild or sharp)
1 tablespoon Dijon mustard
2 teaspoons Worcestershire sauce
1 teaspoon dry mustard
6 quartered red potatoes
1 package of hot links (I used Evergoods) sauteed and chopped.
green onions for garnish
Instructions
Add butter to a dutch oven or heavy stockpot. Once butter has melted add in your carrots, onion and celery and cook for 10 minutes.
Add in potatoes and garlic and cook an additional 10 minutes. Sprinkle the flour over your vegetables and cook for 2 minutes.
Slowly add in your milk, half and half, beer, chicken broth, Worcestershire, hot pepper sauce, cayenne and mustards. Stir together and bring to a boil. Reduce heat to low and cook for 20 minutes, stirring frequently.
Remove from heat and slowly combine the shredded cheese, ensuring that everything is well combined.
Place back on the heat and add in the hot links. Cook for 20 minutes, stirring frequently.
Garnish with green onions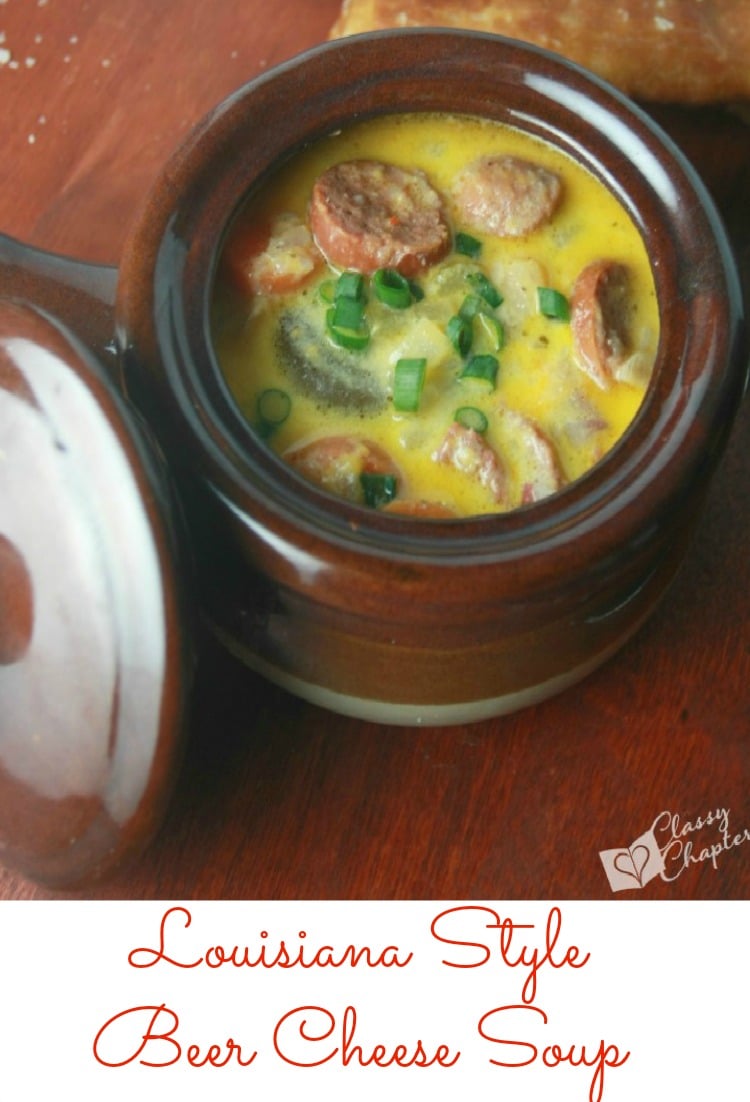 This soup goes great with homemade pretzel sticks! You can find my very simple Homemade Pretzel Sticks recipe below.