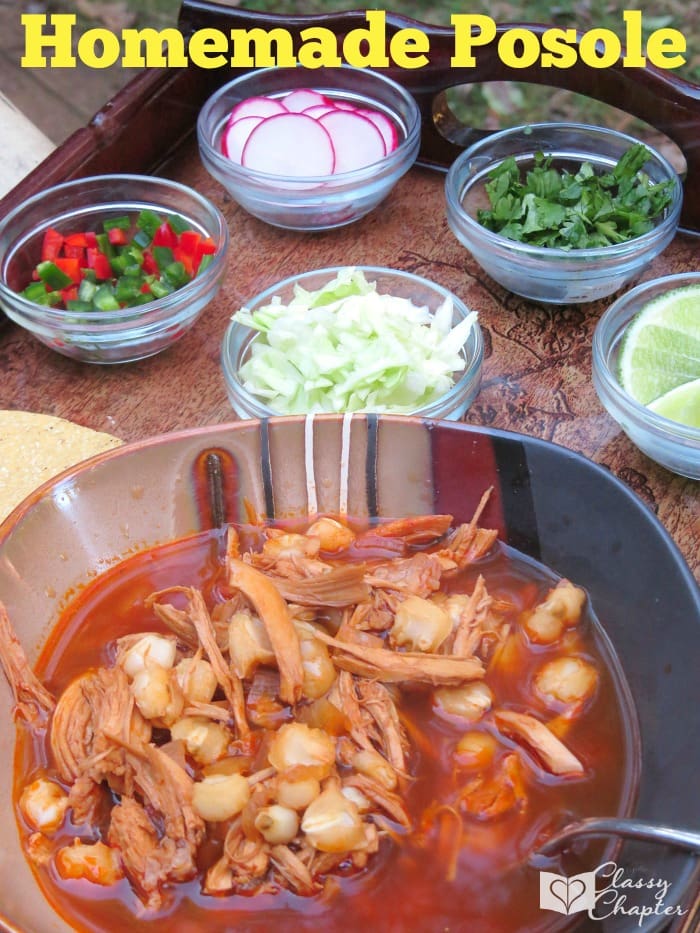 If you love easy home cooked recipes you are going to fall in love with this one!
I grew up in an area that was predominantly Hispanic and it was wonderful!
I remember my best friends mother making the best Mexican food.
To this day, Mexican food is hands down my favorite!
I moved away from my hometown when I was a young adult and I've missed the authentic Mexican food so much.
I can walk into any Mexican food restaurant and get menudo, but I'm not a fan!
I like homemade posole and I've yet to find a restaurant in my area that makes it.
Thankfully, I was able to get my hands on a homemade posole recipe from back home.
Homemade Posole
Before you even think about making this dish, keep in mind it's not a quick recipe.
Plan on cooking this for a good portion of the day.
The longer you let it cook the better it will taste.
Trust me on this!
You do not want to rush this soup, it just won't have the flavor that you desire.
I've received a TON of questions about this dish, so I'm going to discuss some of those now.
I've looked all over and can not find New Mexican Chili Pods.
You can actually buy them on Amazon.
You can also find them in the Hispanic aisle of your grocery store. They are dried and come in a bag.
I thought Pozle used pork. Why are you using chicken?
Actually, you can use pork OR chicken!
I prefer chicken over pork but feel free to use whatever you'd like.
What kind of chicken do you use?
Technically, you can use any chicken you want.
I prefer to use a whole chicken so that I can get some of that yummy bone broth.
Why does this take so long to cook?
Well, it's a soup rich in flavor and it takes a long time for all those flavors to marry together.
Sorry, I don't have a quick version of this recipe.
What are all of the toppings in the photo?
I garnish this soup with cilantro, radishes, limes, cabbage and some jalapeno's.
I also love dipping a crunchy tostada in the soup.
Okay, this sounds amazing! What other recipes should I try?
If you enjoy the pozole, you'd probably enjoy this Horchata as well.
It's a traditional Mexican Rice Drink.

You could also try my Instant Pot Carnitas.
Let me tell you! They are AHHH-MAZING!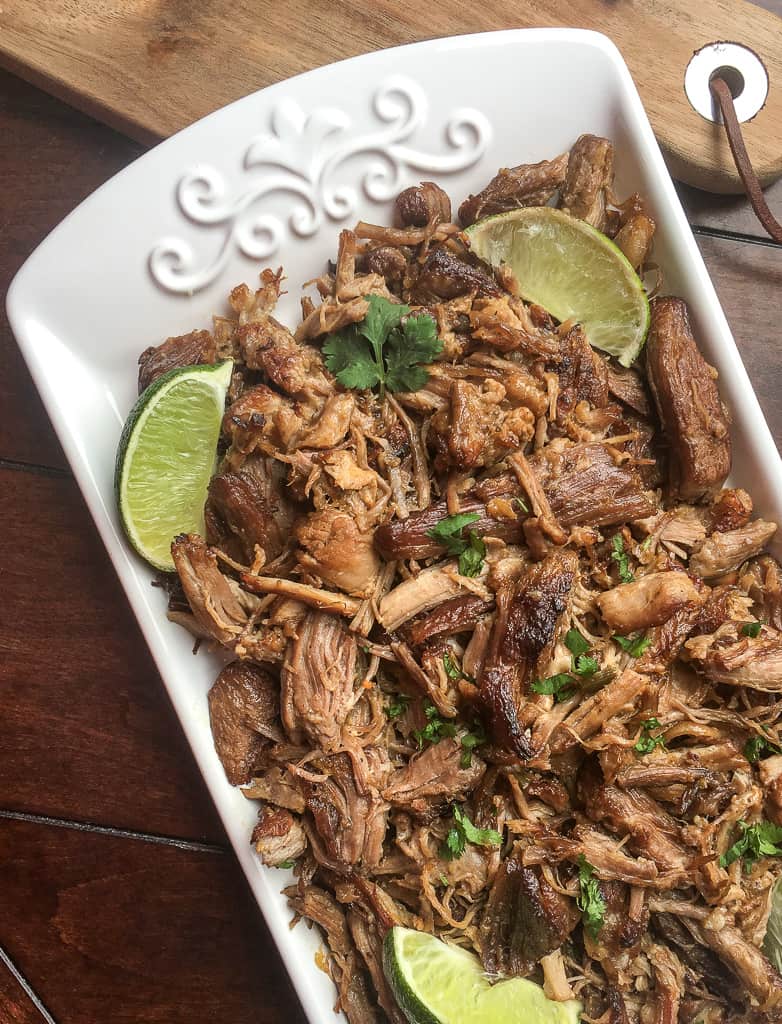 You can get the printable recipe card below: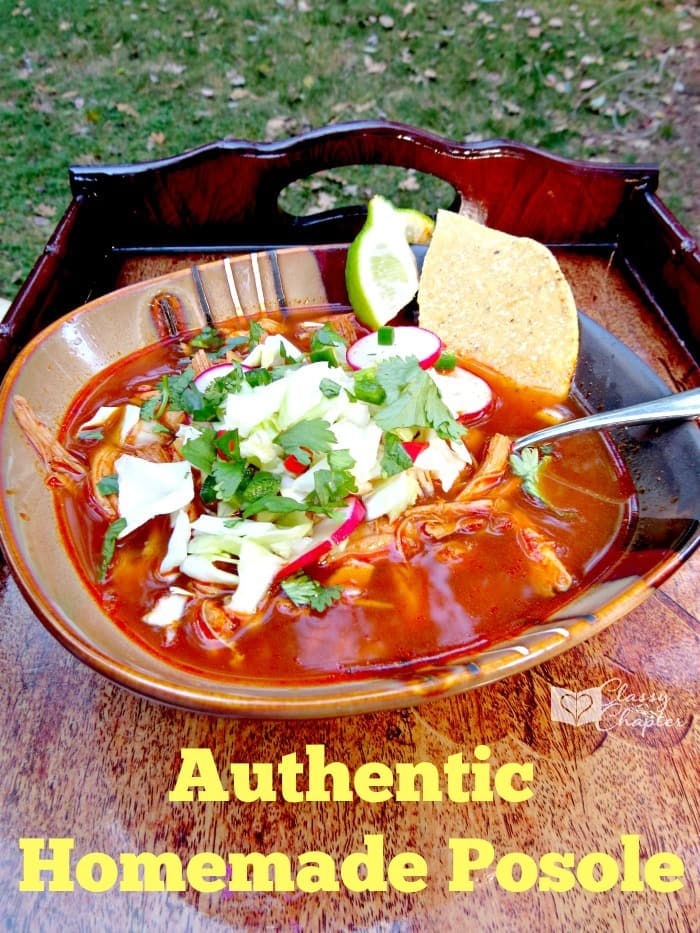 Homemade Posole
Total Time
2
hours
20
minutes
Ingredients
1

Whole chicken

5

Garlic cloves

3

White Onions

New Mexican Chili Pods

Hominy

Cabbage

Limes

Radish

Cilantro

Jalapeno's or Fresno Peppers

Tostada's
Instructions
Boil chicken with 2 cloves of garlic and one whole onion quartered. I typically boil my chicken for about an hour.


While chicken is boiling, soak the new Mexican chile pods in water.


Once your chicken is done, remove from the liquid and let the chicken cool.


Remove stems and if possible seeds from the new Mexican chile pods.


Boil the chile's in a large pot of water until tender (about 45 – 60 minutes). I like to add garlic cloves and more quartered onion to this pot. Once the chile's are soft strain them and save the liquid. Put your chile's into a blender and add the liquid as needed. You don't want the sauce too thick.


Shred the chicken return to the chicken stock, add your chile puree, chop up onion and garlic and add it to the pot. Add your hominy to the pot and let cook for several hours, adding more liquid as needed.


Continue to taste the soup as you cook, sometimes you need to add in salt or even a tsp. of chicken bouillon to enhance the flavor.


Once the soup is to your liking, serve with radish, cilantro, peppers, lime, cabbage and tostada's. You can also add in shredded cheese and avocado if you'd like.


*Tip – Before you add the hominy into the soup, you can fry it in a pan with a tsp. of olive oil. Doing this just helps the hominy not fall apart in the soup.
If you enjoyed this post, make sure to check out some of my other popular posts!