These instant pot carnitas are fall-apart tender and can be used in a variety of recipes. We use this carnitas recipe in salads, tacos, burritos, lettuce wraps and even in enchiladas.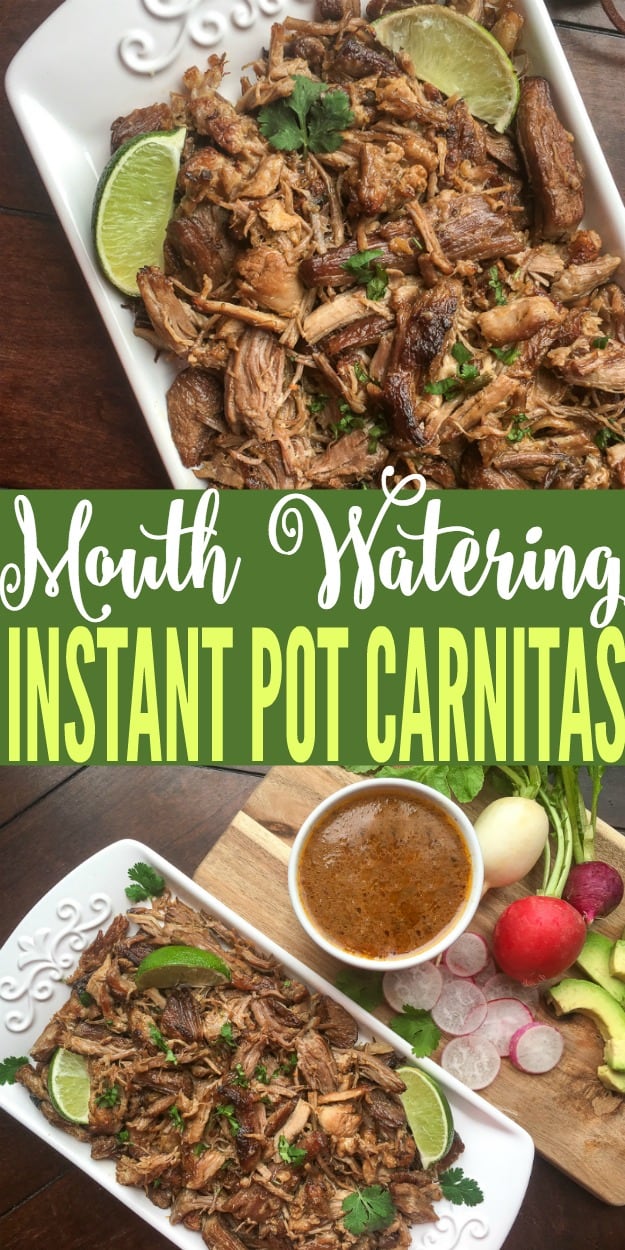 My family loves Mexican food, so we find all kind of fun ways to use up the carnitas. You can even make a huge batch at once and freeze the meat for future dinners.
You will notice that this recipe has a few optional steps. You can skip these steps if you are looking to save time. For example, you do not have to saute the onion, garlic and jalapeno before cooking the pork. Doing so does add more flavor.
You can also skip the step of shredding the pork and tossing it back in with the cooking liquid and putting it in the broiler before serving.
Several people have asked if they could skip this step. The short answer is yes! However, this isn't a step that I would skip. Broiling the carnitas only takes a few extra minutes and it's so worth it in terms of the additional flavor that it adds. Believe me, you'll love getting those crispy edges!
So dang yummy!
Instant Pot Carnitas
Important Note: Different Instant Pot models offer different features and buttons. 
Ingredients:
¾ c. chicken broth, preferably organic
¾ c. fresh orange juice (approximately 2 large oranges)
3 T. lime juice
1 T. chili powder
½ t. smoked paprika
1 t. dried Mexican oregano
1 t. ground cumin
Sea salt and black pepper, to taste
2-3 T. extra virgin olive oil, divided
3½ – 4 lbs. pork shoulder roast, trimmed and cut into 6-8 chunks
1 medium red onion, diced
1 medium jalapeno, diced
2-3 cloves fresh garlic, peeled and chopped
These instructions are for the IP-Duo series but should be pretty similar with all models. Note: These Instant Pot Carnitas go great with this Instant Pot Puerto Rican rice! Seriously, this is a must try recipe. I had never tried Puerto Rican rice before but I was soooo impressed!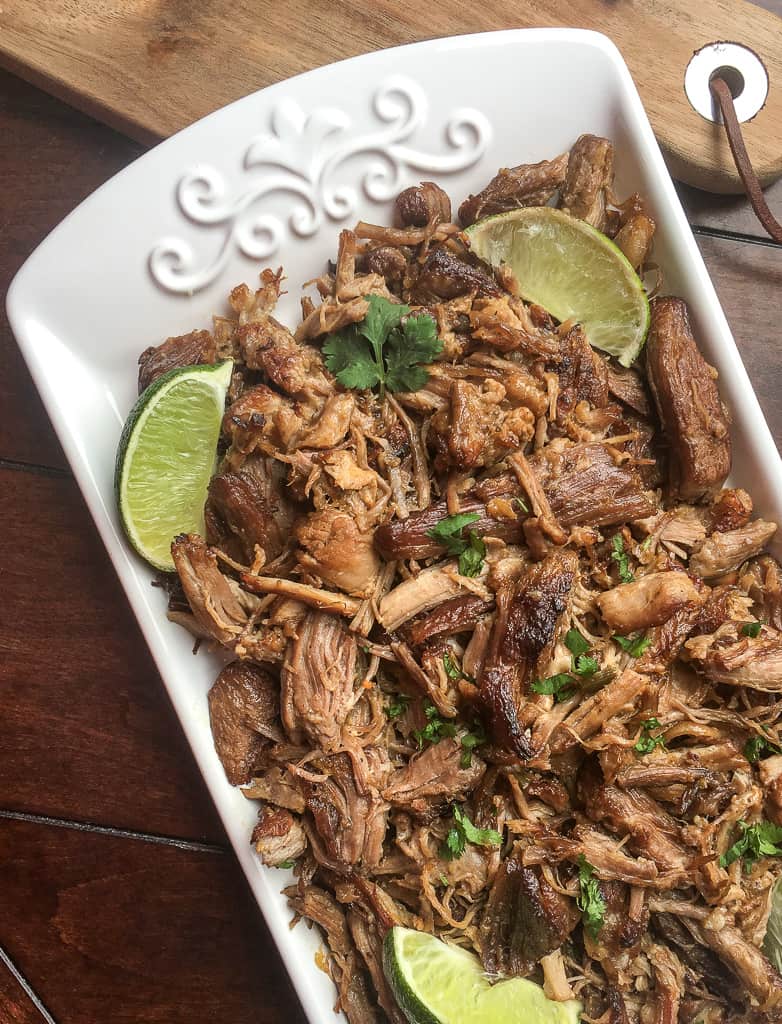 Want more Instant Pot Recipes? Check out this awesome list of over 100 Instant Pot Recipes! You will find every possible Instant Pot recipe that you can think of on this list! Seriously, soups, desserts, chicken, pasta dishes and so much more!

Don't have an Instant Pot yet? You can grab one on Amazon!
This instant pot carnitas recipe is sure to be a hit in your home!
If you enjoyed this instant pot carnitas recipe, make sure to check out some of my other popular recipes!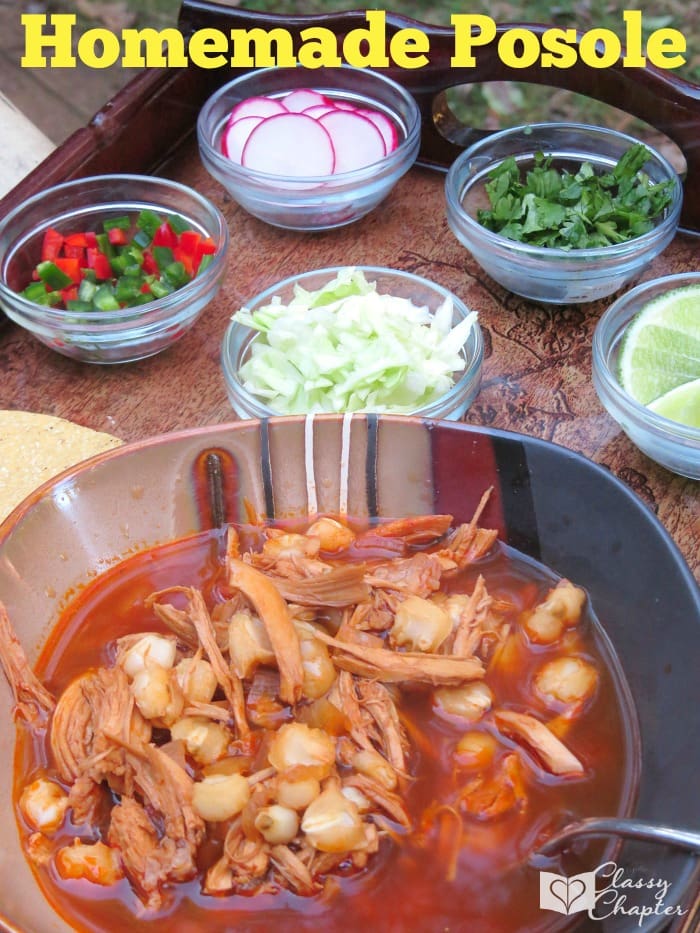 Get your instant pot carnitas printable recipe here:
Instant Pot Carnitas
Cook Time
1
hour
15
minutes
Total Time
1
hour
25
minutes
Ingredients
3/4

cup

chicken broth

3/4

cup

fresh orange juice

3

tbsp

lime juice

1

tbsp

chili powder

1/2

tsp

smoked paprika

1

tsp

Mexican dried oregano

1

tsp

ground cumin

2 - 3

tbsp

extra virgin olive oil, divided

3 - 4

lbs

pork shoulder roast, trimmed and cut into 6-8 chunks

1

medium red onion, diced

1

medium jalapeno, diced

2-3

fresh cloves garlic, peeled and chopped

salt and pepper to taste
Instructions
In a medium bowl, whisk together chicken broth, fresh orange juice, and lime juice with the chili powder, smoked paprika, Mexican oregano, and ground cumin. Season with salt and black pepper, to taste, and set aside.

Push the "Sauté" button on Instant Pot. Once the display reads "On," add 1 tablespoon olive oil and half the pork shoulder pieces to the container. Season with salt and black pepper, to taste, and cook until pork is browned on all sides, approximately 1-2 minutes per side.

Note: DO NOT use lid while using the "Sauté" function on an Instant Pot!

Once browned, transfer seared pork to a plate and repeat this process with additional olive oil and the rest of pork. Remove browned pork from the Instant Pot and set aside.

*Optional Step: Add remaining tablespoon olive oil to the container, along with red onion, jalapeno, and fresh garlic. Sauté, stirring occasionally, until soft and translucent, approximately 3-4 minutes.

Add browned pork back to the pot and pour chicken broth/orange juice mixture over top. Add lid and seal, making sure the steam release handle is positioned toward "Sealing."

Press the "Manual" button and set the time to 30 minutes at high pressure. Once the cooking time is up, allow 20-25 minutes for the "natural release" of the steam inside the Instant Pot. After that time, perform a manual "quick release" to vent any remaining steam to release lid, if necessary.

A few minutes before the steam is fully released, preheat oven broiler to high and line a large, rimmed baking sheet with aluminum foil. Transfer pork to the prepared baking sheet and gently shred with two forks. Drizzle with ¼ cup juices from the Instant Pot and toss to combine before spreading into a thin, even layer.

Place pork under broiler for 4-5 minutes, then remove from oven and add a little more juice before turning the meat to brown the other side. Place back under broiler for another 4-5 minutes or until the pork is nice and crispy on the edges.

Once pork is under the broiler, press "Sauté" on the Instant Pot to reduce the cooking liquid by one half while the pork is broiling.

When finished broiling, remove baking sheet from oven and serve immediately with the reduced cooking liquid, fresh lime wedges, and chopped cilantro. Enjoy!