One of my favorite things about holidays is all the yummy desserts! It's always so much fun to see all the creative recipes people come up with. St. Patrick's Day is not without its tasty treats. Make sure you try some of these St. Patrick's Day Desserts!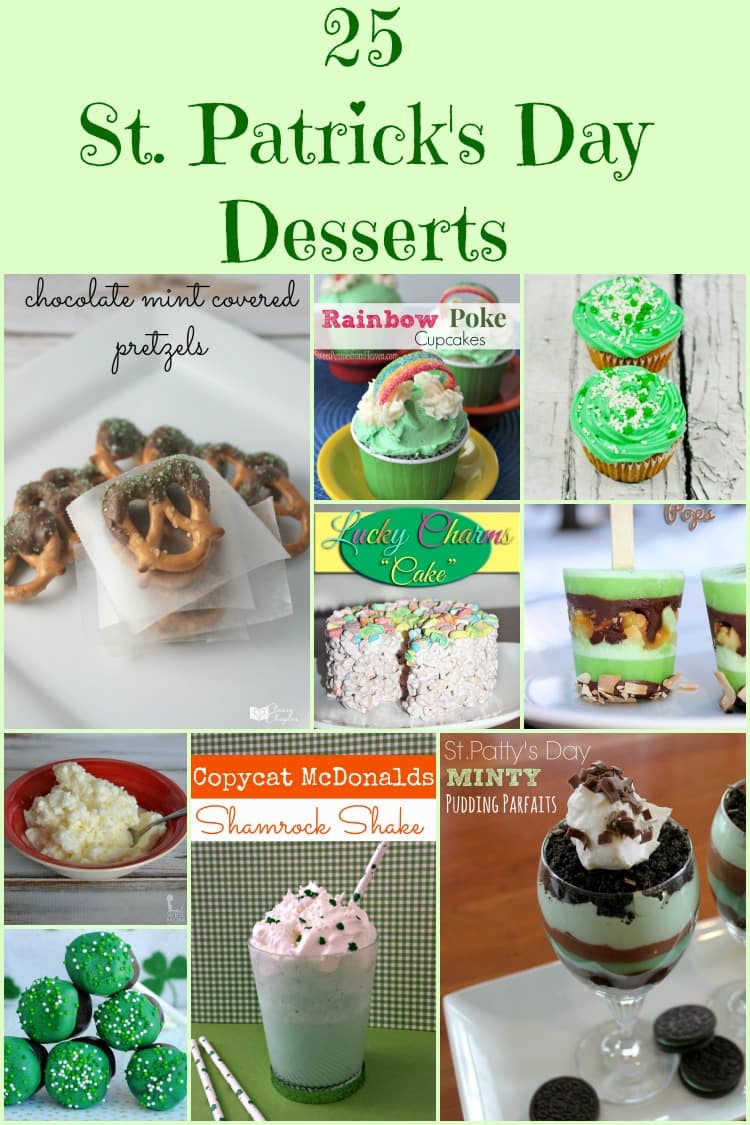 25 St. Patrick's Day Desserts
1. Chocolate Mint Pretzels These Mint Chip Chocolate Pretzels are super easy to make and so tasty!
2. Rainbow Cake Tutorial Isn't this rainbow cake the cutest!?
3. St. Patrick's Day Shamrock Rice Krispie Treats The kids will love this tasty St. Patrick's Day Dessert!
4. Mint Brownies Who doesn't love brownies!? Mint? Even better.
5. St. Patty's Day Minty Pudding Parfaits These would be the perfect treat for a St. Patrick's Day party.
6. Peppermint Snow Ice Cream The snow ice cream will for sure win the kids over.
7. Fudgy Thin Mint Brownies Yummy!!
8. St. Patrick's Day Chocolate Chip Mint Cookies Chocolate chip and mint is the perfect combination.
9. Rainbow Fruit Trifle Recipe If you want a healthier option, make sure you check out this recipe.
10. Lucky Charms Cake Lucky Charms scream St. Patrick's Day!
11. Chocolate Mint Krispy Treats
12. Grasshopper Cheesecake Squares If you've never had a Grasshopper cake, you have to try this one.
13. St. Patrick's Day Marshmallow Pops Super easy and fun for everyone.
14. Leprechaun Samoa Ice Pops This is one I haven't tried but can't wait to check out.
15. Rainbow Poke Cupcakes Poke cakes are all the rage and this one sure looks delicious.
16. St. Patrick's Day Surprise Inside Cupcakes Can someone please makek this one for me!?
17. Green Velvet St. Patrick's Day Dipped Cupcakes I love red velvet so I'm sure I'd love green velvet just as much.
18. Rainbow Cupcakes Super kid party idea!
19. Shamrock Shake Bring on the shamrocks.
20. Andes Mint Chocolate Cookies Andes Mint's are a favorite in my house. I'm sure this one will be amazing.
21. Irish Coffee Muffins Major coffee lover here so this one is a must.
22. Lucky Charms Krispie Treats Another fun treat for the kiddo's.
23. Double Chocolate Mint Cupcakes Yum, double chocolate!
24. St. Patrick's Day Cake Balls Super cute idea!
25. Shamrock Cream Cheese Cookies Cream cheese cookies? Yes, please!
[mailerlite_form form_id=6]