Seafood is not my favorite type of food, but I love me some salmon! This easy salmon recipe is packed with flavor and is perfect as an appetizer or a main course! It's one of my favorite easy home cooked recipes.
This firecracker salmon recipe was inspired by a recent date night that my husband and I went on. We were eating at The Cheesecake Factory and ordered a similar version of this recipe as an appetizer. My husband who can not stand salmon actually gave it a try and loved it!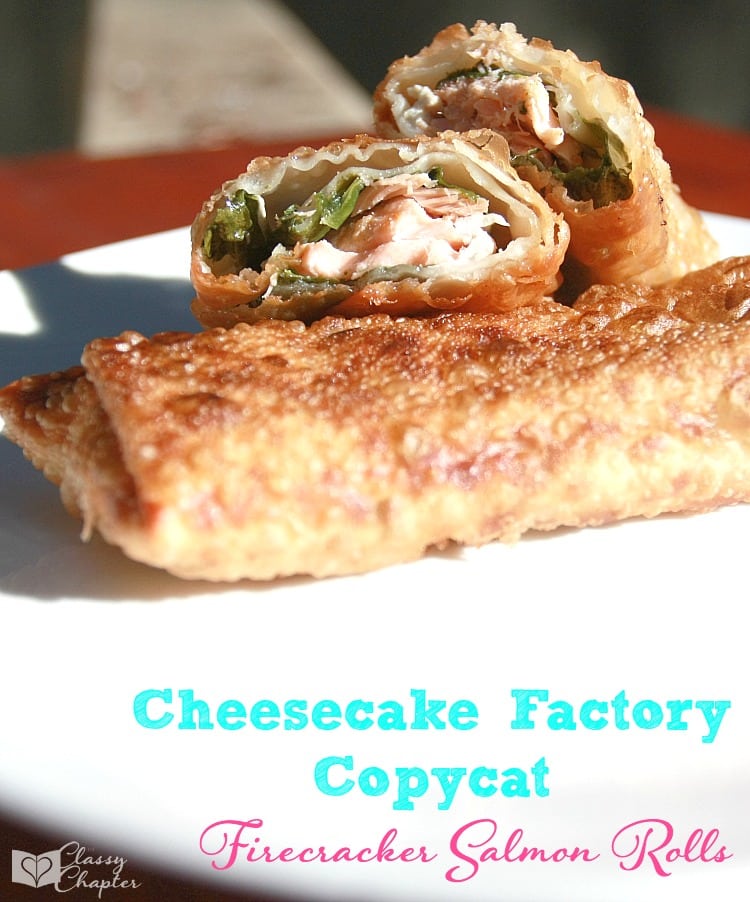 Easy Salmon Recipe: Firecracker Salmon Rolls
Don't let the name firecracker salmon rolls throw you off, you'll love these even if you don't enjoy spicy food. The actual roll is not spicy, it's the sauce that gives it the spice. If you aren't a fan of spicy forgo the sauce or make your own version.
Ingredients for the Rolls:
1 Salmon Filet
1 Bag of Spinach
1 Bag of Eggroll Wrappers
Vegetable Oil (at least 1/2 cup)
Ingredients for the Sauce:
1/2 cup Asian Garlic Chili Sauce
1 Tbsp. of Soy Sauce
1 Tbsp. of Honey
Directions:
Start by preheating your oven to 425 degrees. Sprinkle some salt and pepper on your salmon filet and place in a lightly greased baking dish. Cook the salmon filet for 4 to 6 minutes per half inch. Once your salmon flakes easily, it's ready to be taken out of the oven.
Let your salmon cool slightly while you gather the egg roll wrappers and spinach.
Place an egg roll wrapper on a flat surface and place two pieces of spinach on the wrapper, place a small piece of salmon on top of the spinach and then cover that piece of spinach with another two pieces of spinach. You'll then roll the egg roll tightly. (See video below on how to wrap an egg roll)
Once you have all of your egg rolls stuffed and rolled it's time to start frying them! Place enough oil in a deep pan to cover the bottom. Gently place egg rolls in pan, turning occasionally until the entire roll is golden brown. Place the egg rolls on paper towels to soak up any excess oil.
These rolls go great with white rice.
To make the sauce, you'll mix together the Asian Chili Sauce, honey and soy sauce in a medium-size bowl. You can serve the sauce cold or heat it up and serve warm.
[mailerlite_form form_id=6]
How to Wrap Egg Rolls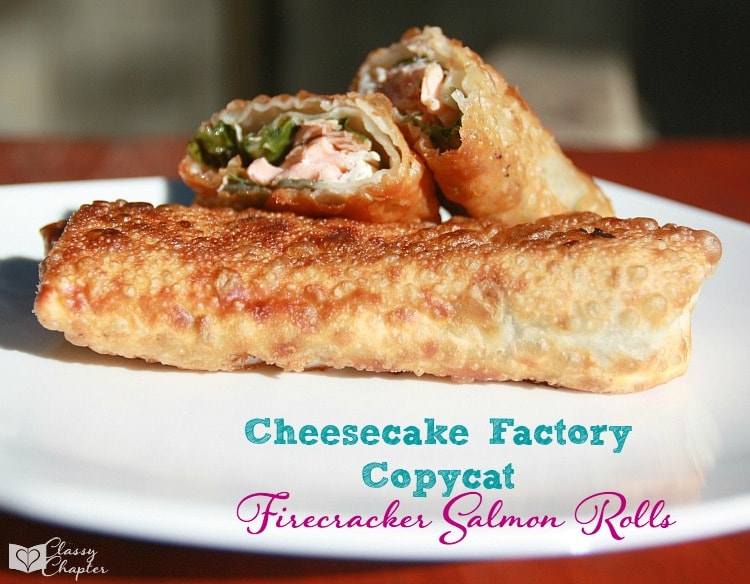 If you enjoyed this recipe, be sure to follow me on Pinterest and check out the Korean Taco recipe below.