How have you been doing with your weekly meal planning?
Personally, I'm enjoying not eating out all the time. I have also been having a lot of fun trying out different recipes I've come across on Pinterest. I'm also hoping that not eating out will save me some money. Our grocery bill has been a little higher than normal, but I also recognize that my family is eating better food. Always a bonus!
Each week for the next 52 weeks, I'll have a new menu up to ensure you are always stocked up with meal planning ideas.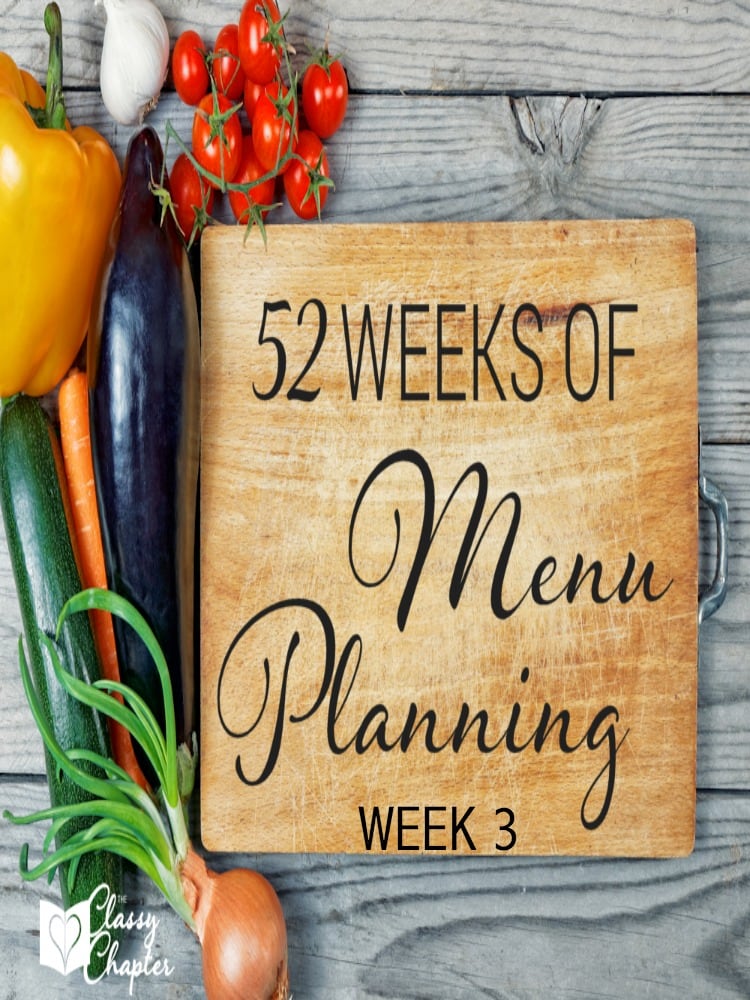 52 Weeks of Meal Planning Ideas (Week 3)
This week, I'm not cooking any family favorites! Instead, I have found several recipes from around the web and this week will be seven days of new recipes. I'm super excited! If you have a recipe that you'd like to see added to my meal plan, leave a link in the comments. I'm always up for trying out new recipes.
Monday – Pepperjack Stuffed Chicken with salad and roasted veggies.
Tuesday – Pork Tenderloin with mashed potatoes and green beans. This will be my first time cooking a pork tenderloin so I'm excited to see how it comes out. If you have any tips, let me know!
Wednesday – Honey Balsamic Chicken Thighs with rice and salad.
Thursday – Cowboy Chili with cornbread and salad.
Friday – Garlic Butter Shrimp over noodles with a side of roasted veggies.
Saturday – Bacon Wrapped Chicken with salad and french bread.
Sunday – Spaghetti Pie with sourdough bread and salad.
Make sure to follow me on Pinterest and check back each week for a new menu! Also, next week I'll have an authentic Mexican dish on the blog! You'll want to stay tuned for this do-not-miss recipe.
52 Weeks of Meal Planning Ideas (Week 1)
52 Weeks of Meal Planning Ideas (Week 2)
If you enjoyed this post, make sure to check out some of my other popular posts!