If you've never had a Brazilian wax before, the thought has probably entered your mind at one time or another.
Does it hurt? Is it awkward? How long does it last? Is it worth it?
I know that I asked myself these questions for about 15 years. I even tortured myself by watching YouTube videos of women screaming in pain. Yet, I still decided to suck it up and go get it done.
Let me tell you, the experience was not what I expected.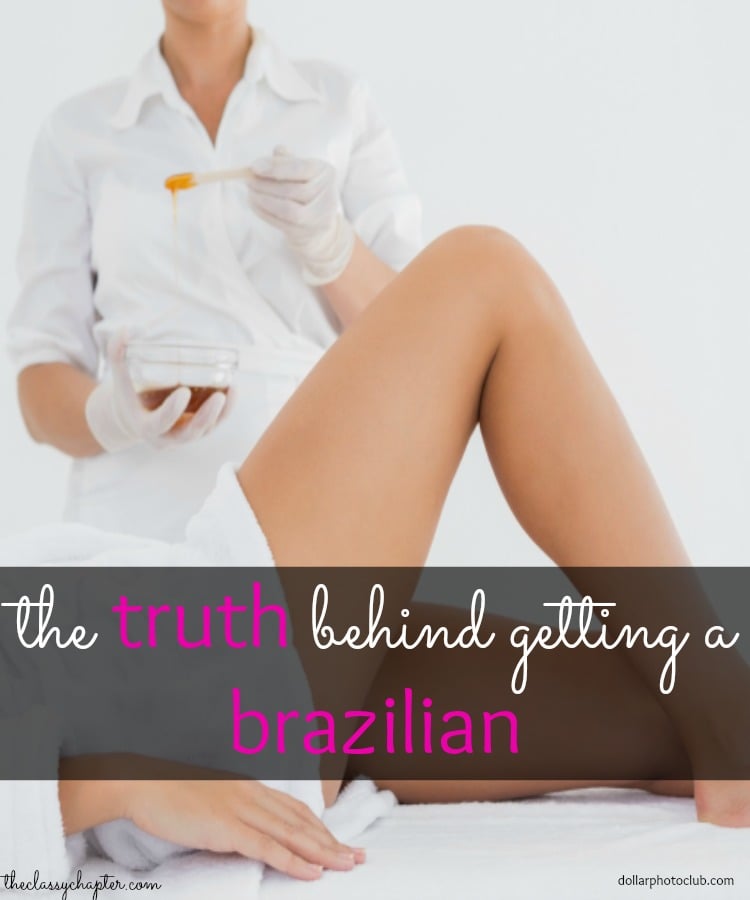 Getting A Brazilian Wax
Today, I'm going to give you all the details you'd want to know about getting a Brazilian for the first time. You might want to stop reading now if you aren't comfortable with this topic. Don't worry, I'll keep it PG-13.
Does it hurt?
You've probably heard about how horribly painful a Brazilian is, you might have read blog posts or you might have tortured yourself with YouTube videos.
I'm here to tell you it isn't that bad! When I went in for my first Brazilian, I was so worked up that I was shaking during the wax. Once the first strip was ripped away I completely relaxed.
Yes, there was a very small level of pain but overall it wasn't a bad experience. I didn't scream, cuss, bite my lip or anything else. I honestly only said "ouch" a few times.
I'm not saying this because I'm some big tough girl. In fact, I hate pain! But stubbing your toe hurts worse than a Brazilian.
The best part is the first time is the worst! If you start getting waxed on a regular basis it will get easier.
[Tweet "Does getting a Brazilian hurt? Find out here!"]
Is it awkward?
Heck yes! Then again isn't it awkward when our doctor has to see us naked? We are in awkward situations all the time yet we survive.
The key to making your Brazilian less awkward is to engage in conversation with the lady waxing you. Remember these ladies are professionals. They've seen it all! Be yourself and enjoy some small talk. You can even tell the lady waxing you that you are uncomfortable.
Believe me once you start talking and laughing the situation will be a lot better!
Is it worth it?
100% worth it! No more razor burn, your hair grows back slower and finer than before. Not to mention everything just feels that much cleaner!
Tips to make your first Brazilian a success!
Make sure you haven't shaved for at least 5 weeks.
Take a few aspirin before you go.
Relax! The process of getting waxed only takes about 15-minutes.
Ask friends for recommendations. I highly recommend the European Wax Center if there's one in your area.
Ask questions!
Treat the area with a serum to prevent ingrown hairs (ask your salon about this) and clean the area every day with a loofa (aka exfoliate)
If you want to know more feel free to leave a comment or send me a private email!