These Weight Watchers Chocolate Banana muffins are so good! Seriously, they are pretty darn amazing.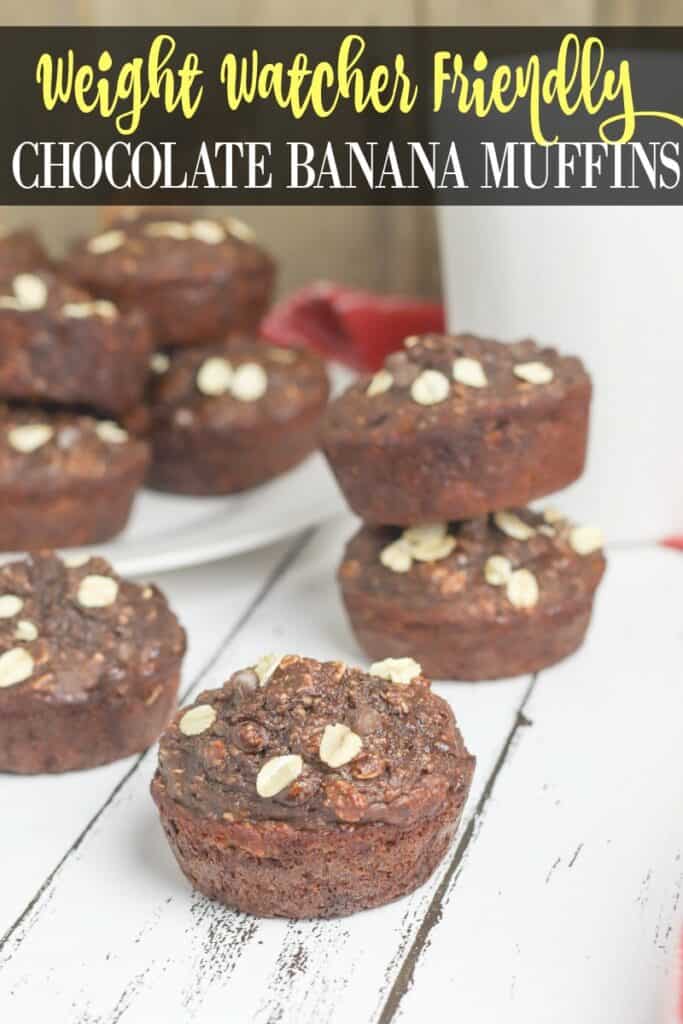 Most of you know that I've been following the Weight Watchers plan for a while now.
One of my favorite things about this plan is that I can pretty much eat anything I want!
Sometimes that means planning lower point meals or getting creative with how I cook. These Weight Watcher friendly chocolate banana muffins are the perfect way to fix that chocolate craving without using up all your daily points!
Weight Watcher Friendly Chocolate Banana Muffins
I don't know about you but every night after dinner, I have a major sweet tooth. Usually, I have one of my Built Bars but I've been getting burnt out on having one every single night, so I needed a change.
These muffins have definitely hit the spot. Not only are they so delicious but they are only 3 WW points!
Eating one of these in the evening always hits the spot.
However, I want to caution you that it's easy to eat more than one, which would not be good for your daily points.
Thankfully, these muffins freeze up really nicely.
After baking a batch, I freeze them all in individual baggies. I usually take one out in the morning so that it's defrosted by the time evening rolls around.
Freezing the muffins also helps keep the kids from eating them all as well!
To make this recipe, you'll want to make sure you have a few things on hand.
Oats

Bananas
Eggs
Brown sugar
Nonfat Greek yogurt
Vanilla
Baking powder
Baking soda
Unsweetened cocoa powder
Chocolate chips
Make sure you check out my Instant Pot Tamales as well, they are WW friendly!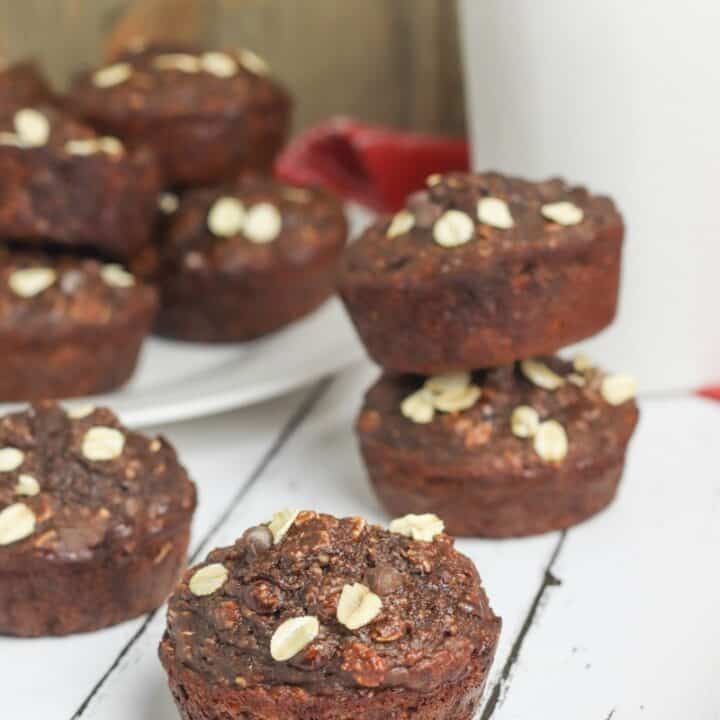 Weight Watchers Chocolate Banana Muffins
Ingredients
2 ½ cups oats
3 bananas
2 eggs
1/3 cup brown sugar
¾ cup nonfat Greek yogurt
2 teaspoons vanilla
2 teaspoons baking powder
½ teaspoons baking soda
3 teaspoons unsweetened cocoa powder
½ cup chocolate chips
Instructions
Preheat oven to 350 degrees and grease a muffin pan with nonstick cooking spray.
Place 1 ½ cups of oats in a blender or food processor and blend until a flour-like consistency forms. Set aside.
In a large bowl, mash bananas until smooth. Add eggs, brown sugar, yogurt, and vanilla. Mix to combine.
Add ground oats, regular oats, baking powder, baking soda, and cocoa powder. Mix to combine and allow batter to rest for 10 minutes.
Fold in chocolate chips.
Scoop batter into muffin tin and sprinkle with additional oats, if desired.
Bake for 20 minutes or when a toothpick inserted in the center comes out clean. Cool for a few minutes in the pan, then remove muffins to a wire rack to cool completely.
Notes
Note: Full-size muffins are 3 Weight Watchers points each, while mini muffins (recipe makes 36 mini muffins) are 1 points each.