A healthy diet is important for everyone, even if you aren't trying to lose weight. For the past 6 months, I have been actively trying to lose weight. I've been watching my diet, drinking more water and working out. One important thing I learned when it comes to losing weight and working out is you need a lot more protein!
At first, it was pretty hard for me to keep up with the amount of protein that was needed. I'm personally not a big fan of protein shakes so I had to come up with other ways to add more protein into my diet.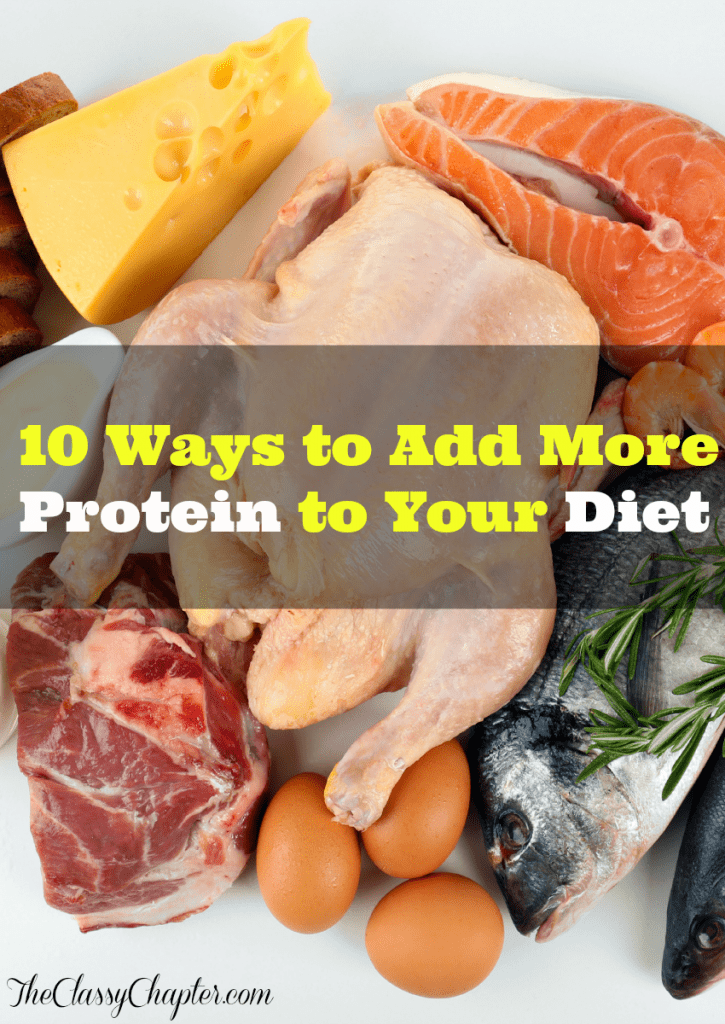 10 Ways to Add More Protein Into Your Diet
1. Peanut Butter and Celery – If you are watching your calories this is a great midday snack!
2. Plain Greek Yogurt – I have to admit I'm not a big fan of Greek Yogurt, but it does have a nice amount of protein. I will usually buy plain Greek Yogurt, add in a drop of vanilla and sometimes fruit. Mix it all up and you have yourself a pretty tasty treat.
3. Smoothies – I mentioned above that I'm not a big fan of protein drinks…but I love this one! I take about 1 cup of 1% or 2% milk, 1 scoop of protein powder, a couple strawberries and a banana and put it all in the blender. Once everything is blended up, I have a nice strawberry banana shake to enjoy! The best part is I don't even taste the protein powder.
4. Beef Jerky – I LOVE beef jerky! Thankfully, my husband is a hunter so we are always making a batch of venison jerky. Jerky is high in protein and so yummy and easy to take with you while on the go.
5. Edamame – I keep frozen edamame in the freezer since it's so easy to prepare. I tend to season my edamame with chipotle seasoning!
6. Turkey or Chicken Breasts – Both turkey and chicken are so versatile and you can really use this meat to get creative with your meals while ensuring you are getting plenty of protein.
7. Beans – If you are on a budget adding beans into your diet is a must! I buy large bags of different lentils and add them to our dinners. Beans are extremely easy to cook and can be used as a side dish or added into food.
8. Hard Boiled Eggs – If you enjoy eggs then this is a must in your diet when trying to add more protein. I will usually boil up 18 eggs on Sunday evening and snack on them throughout the week.
9. Fish – Most seafood is packed with protein, the problem is I don't really enjoy seafood. If you aren't a fan of fish, try getting a halibut filet. This white fish is high in protein, doesn't taste fishy and you can season with anything you'd like. I typically do a dry chipotle rub on my filet and then cook it in a hot skillet for about 4 or 5 minutes a side.
10. Cheese – Cottage cheese and Swiss cheese are both high in protein and make for an easy snack.
Additional Resources:
If you enjoyed this post, make sure to check out some of my other popular posts.