I love everything about Christmas, but one of my favorite activities is baking Christmas cookies! I will normally spend one to two weeks every December making family favorite recipes and fun stuff I find online. I've compiled some of the Christmas cookies I will be baking in a few weeks!
Make sure to click through the links below and give these amazing bloggers some Christmas love!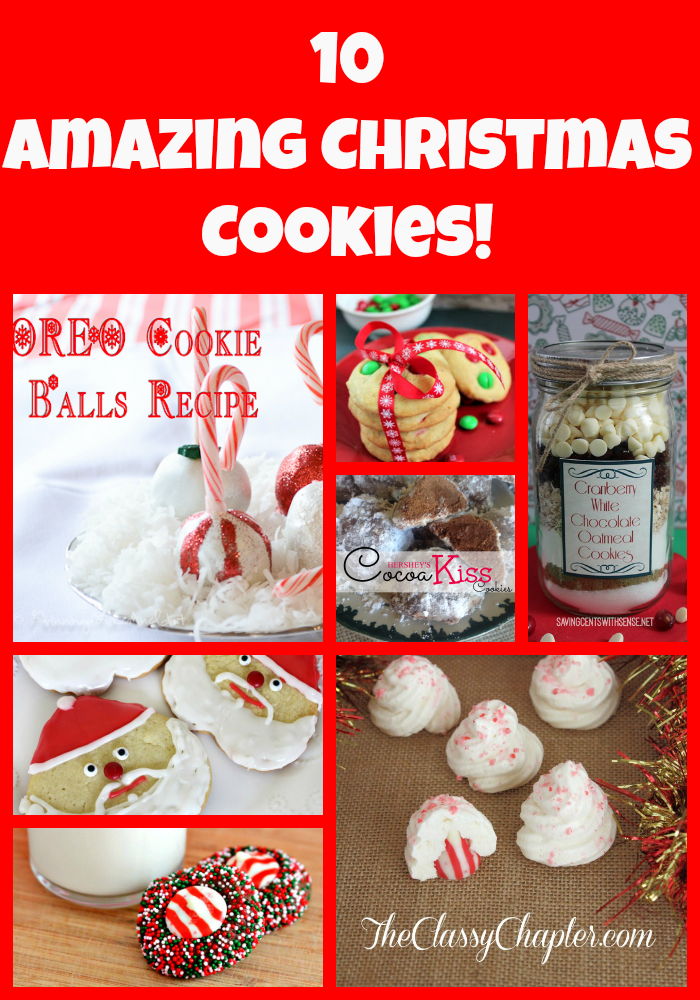 10 Christmas Cookies
1. Hershey's Cocoa Kiss Cookies – I just came across these cookies this evening and I can not wait to try them! Seriously, look at the picture of these, read the ingredients and tell me they don't sound amazing!
2. Peppermint Meringue Cookies – To die for! They are also super creative.
3. Funfetti Cake Batter Cookies – These cookies look so fun and festive. A must bake this year!
4. Mint Chocolate Blossom Cookies – My Grandma used to make a cookie similar to this one. I'm excited to try it out and see if it compares. I have a feeling it will!
5. Peppermint Oreo Cookie Balls – A mix between a cookie and a cake pop! I'm sold.
6. Magic Cookie Bars – These cookies can be baked, year round…my favorite type.
7. Chocolate Rolled Cookies – Seriously, these cookies are to die for! No words needed.
8. Santa Sugar Cookies – I have my own special sugar cookie recipe that I use, but I'm always looking for new ones to try out.
9. M&M Holiday Cookies – M&M's in cookies? My weakness!
10. Cranberry White Chocolate Oatmeal Cookies – Not only do these cookies look amazing, but they are the perfect gift!
[mailerlite_form form_id=6]
What is your favorite Christmas cookie?
Additional Resources:
If you enjoyed this post, make sure to check out some of my other popular posts.