Working a full-time job, raising three children and running a blog means my time is extremely limited. I'm always trying to find easy home cooked recipes to get on the table quick and with limited dishes (my teen sucks at doing dishes!) Not to mention I love cooking up my best bacon recipes.
I love my chicken bacon and green bean skillet dish because it's super easy to make, takes about 30-minutes and is always a hit with the family. The good news is you can really take this dish and make it your own. Don't be afraid to substitute the green beans for another vegetable of your choosing!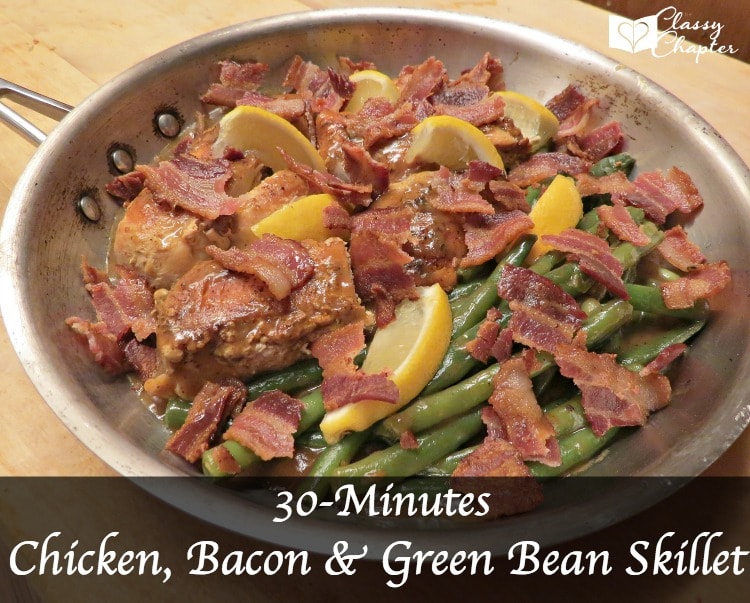 Chicken Bacon and Green Bean Skillet
Here are the ingredients you'll need to create this tasty dish!
1 pound of green beans
6 slices of bacon
3 or 4 chicken breasts
Ground Pepper
1 1/2 cup of chicken broth ( reduced sodium)
2 tablespoons of flour
2 lemons (lemon zest from one lemon)
Directions:
Step 1: In a large stockpot bring water to a boil then add in green beans, cook for 5 minutes. Once green beans have cooked for 5 minutes plunge into a bowl of ice water to stop cooking.
Step 2: In a large skillet cook your bacon until crispy.
Step 3: While bacon is cooking mix the chicken broth, flour and lemon zest in a small bowl.
Step 4: Once bacon is nice and crispy remove from skillet and let drain on a paper towel. Drain excess oil from the pan, leaving behind tablespoon of the bacon grease.
Step 5: Cook chicken on medium heat in the same skillet you cooked the bacon in. You'll want to cook the chicken for about 14 minutes (7 minutes a side).
Step 6: Remove chicken from pan (it's not all the way cooked yet, don't worry!).
Step 7: Reduce heat on the skillet and add your chicken broth, flour and lemon zest mixture to the pan. Stir and cook until the sauce begins to thicken and get a little bubbly.
Step 8: Add in the green beans and chicken and let cook until chicken is no longer pink (about 7 minutes).
Step 9: Garnish with lemon and bacon.
Tip: Don't add salt to the dish until you've tasted it. The bacon grease provides plenty of salt.
[mailerlite_form form_id=6]
If you enjoyed this post, make sure to check out some of my other popular posts!