This Weight Watchers Breakfast Pizza is the perfect way to get your day started! Not on Weight Watchers? No problem, this breakfast is perfect for anyone.
Weight Watchers Breakfast Pizza
I don't know about you but I always struggle to come up with breakfast ideas.
This Weight Watchers Breakfast Pizza is so filling AND low in points!
Even better, it's a recipe that the whole family can enjoy. I will often make this breakfast pizza on Saturday mornings as a treat for the family.
Isn't it great when you can make your favorite Weight Watchers meals for the whole family? I seriously hate trying to make multiple meals just because I'm trying to make better food choices.
Any ideas to further save on points?
Yes, you can make any adjustments that you'd like. If you want to save some points, you can try fat-free mozzarella, you can skip the turkey sausage and instead load up on veggies. Bell peppers, onions, garlic and spinach would be GREAT on this pizza!
Do I have to make my own low-point dough?
Nope, you can definitely purchase pre-made dough but you will want to account for the points.
Can I make this breakfast pizza in advance?
Yes! Sometimes, I'll make the dough the night before so it's ready for me in the morning. I'm all about saving time in the mornings, so this is a great hack.
How many points are in a Weight Watchers Breakfast Pizza?
It will vary based on which ingredients you use but this breakfast pizza is 5 to 7 points depending on which plan you are on.
Do you have any other Weight Watchers Meal ideas?
Of course! If you are looking for something on the sweeter side, make sure to try my Weight Watchers Cheesecake. If you are after a tasty dinner option, these Instant Pot Tamales are so delicious and perfect for Weight Watchers. You can also look over my Weight Watchers Meal Plan. This will give you some insight into what I eat in a typical week.
If you are on the MyWW Blue or Purple plan this breakfast pizza is 5 points. Green plan, you'll want to calculate for 7 points.
Read above if you are looking for ways to save on points!
Hosting a brunch? This is a GREAT breakfast item to serve! Prepare the dough, prep a variety of ingredients and let each person make their own pizza.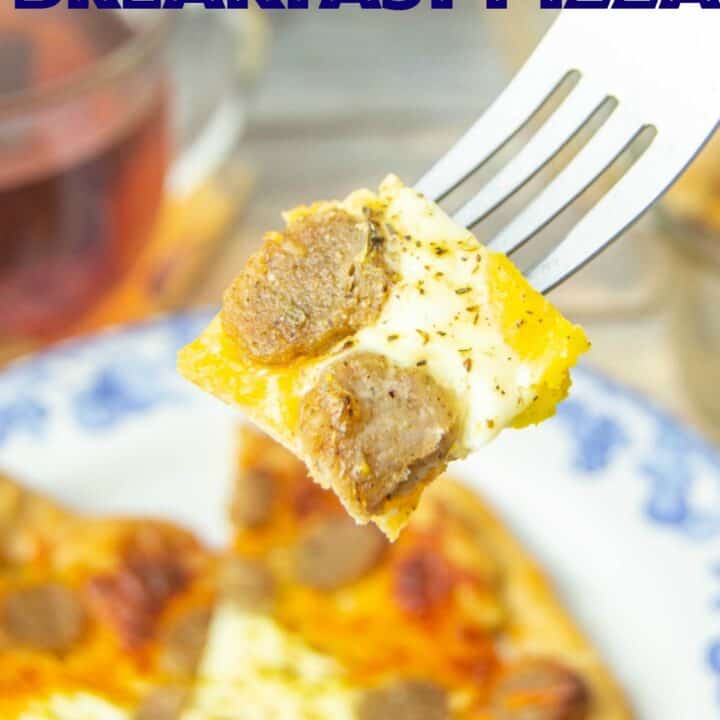 Weight Watchers Breakfast Pizza
Weight Watchers Breakfast Pizza
Ingredients
1 cup nonfat plain Greek yogurt
1 cup self-rising flour
4 Eggs
1/4 cup reduced-fat Mexican Shredded Cheese
Turkey breakfast sausage links
½ teaspoon salt
½ teaspoon pepper
½ teaspoon garlic powder
½ teaspoon onion powder
1 teaspoon oregano
Cooking spray
Instructions
Preheat oven to 425℉.
Take sausage out of the freezer.
Combine salt, pepper, garlic and onion powders and oregano in a small bowl.
Lightly spray your baking dish.
Combine both yogurt and flour inside a mixing bowl and blend until ingredients have formed.
If your dough still feels a little sticky, sprinkle flour onto dough until it feels solid and easy to separate.
Continue to knead the dough for 2 to 4 minutes
Place dough on top of the floured surface and sprinkle flour on top as well.
Cut dough into four pieces.
Press dough with fingers to stretch it out. Lift off of your surface and gently stretch and pull the dough until the desired thickness and size is reached.
Place in the baking dish and pierce around with a fork, paying attention to any air bubbles.
Roll up the sides, pinching as needed, to form a crust.
Sprinkle with cheese.
Cut 4 pieces of sausage into pieces. (They are still a bit frozen, but a little paring knife worked perfectly.)
Arrange the sausage around the pizza.
Crack an egg in the center.
Sprinkle with spice mixture.
Repeat for remaining pizzas.
Bake for about 10-12 minutes, or until dough and eggs are cooked.
Notes
If you like your eggs less done, I suggest cooking the pizza WITHOUT the egg for 5 minutes, then remove from oven, add egg and then cook for the remaining amount of time.
Nutrition Information:
Yield:

4
Serving Size:

1
Amount Per Serving:
Calories:

266
Total Fat:

9g
Saturated Fat:

3g
Trans Fat:

0g
Unsaturated Fat:

5g
Cholesterol:

209mg
Sodium:

809mg
Carbohydrates:

27g
Fiber:

1g
Sugar:

2g
Protein:

18g
This is an estimate, for actual nuturional value, you'll want to double check using the ingredients you have on hand.