This Weight Watchers cheesecake recipe is so yummy and it's only 1 Freestyle Point!
Weight Watchers is hands down the best diet out there. Mainly because it isn't a diet, it's a lifestyle! If you are new to Weight Watchers, make sure to check out my post on Getting Started with Weight Watchers.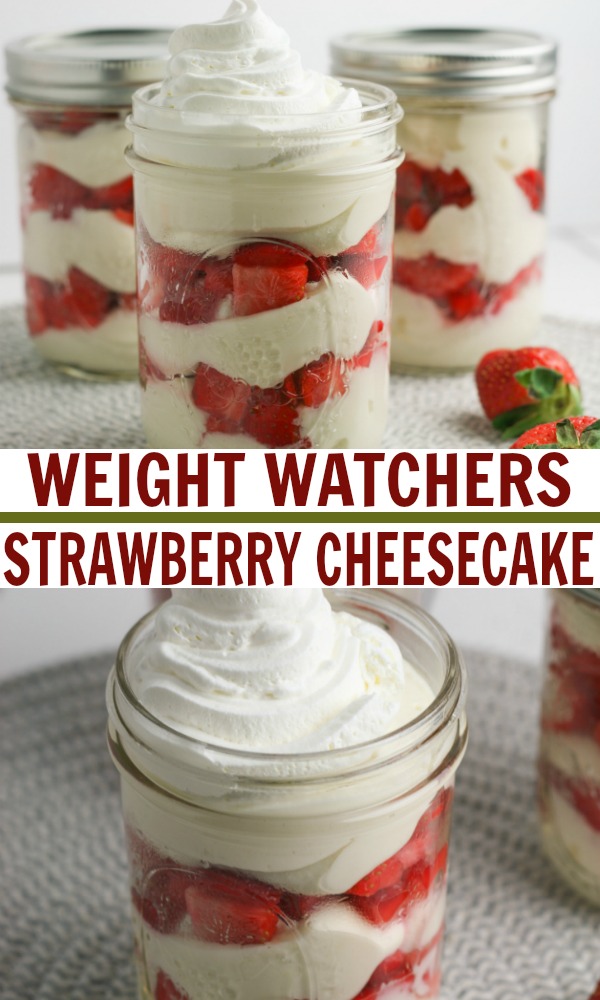 Weight Watchers Cheesecake
Weight Watchers is all about making small changes to your diet. I don't know about you but I always have a serious sweet tooth after dinner.
By the way, if you need some meal inspiration, make sure to check out my Weight Watchers Meal Plan.
This strawberry cheesecake is a guilt-free way of curing that sweet tooth.
I like making these cheesecakes in a jar as it lets me prepare my desserts for the week. I'm using 8-ounce mason jars but you can use any size you'd like (or just use a bowl).
We always think about preparing breakfast, lunch and dinner but often forget about dessert. However, dessert is normally the biggest thing to throw us off our diet.
I'm a late night snacker, so if I don't have my desserts pre-planned, I'm headed straight for the bad stuff.
I love that you can get creative with this recipe and add in any of your favorite fruits.
If you want, you can even create a graham cracker crust but that will increase the Weight Watcher Points, so keep that in mind.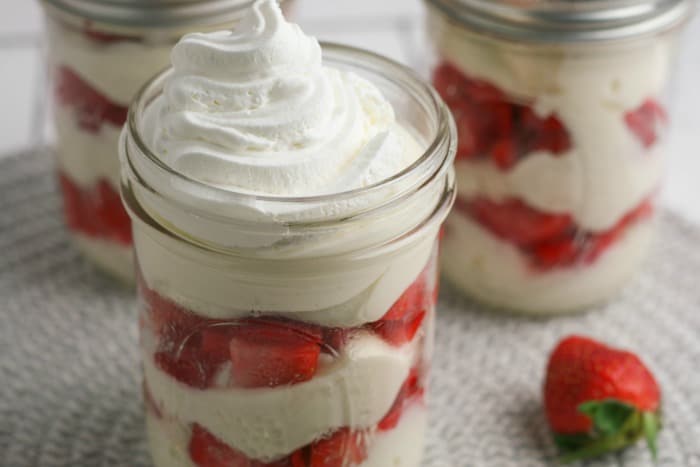 To make this yummy Weight Watchers dessert, you'll need the following.
Plain nonfat Greek Yogurt

Fat-free sugar-free cheesecake pudding mix

Strawberries, diced

Vanilla
Note: Some of my readers have mentioned that this recipe is a bit bitter for their taste. I have found this to be true if you DO NOT like Greek Yogurt. I personally do not mind Greek Yogurt, so I think this recipe is super tasty.
If you want to sweeten it up a bit, I suggest adding in a little sugar-free vanilla or cheesecake pudding mix. Make sure you account for the points if you make any substitutions.
More Recipes!!
Weight Watchers Breakfast Pizza – Ya'll this is Soooooo Good! You have to try it!
Want another Weight Watcher Friendly dessert idea? You have to try these Weight Watcher Banana Muffins!
Don't forget to try these Instant Pot Tamales – Weight Watcher Friendly!!
Low Carb Strawberry Cheesecake Cookies!
Only 3 ingredients. How can you beat that! Not only is it healthy but it's simple.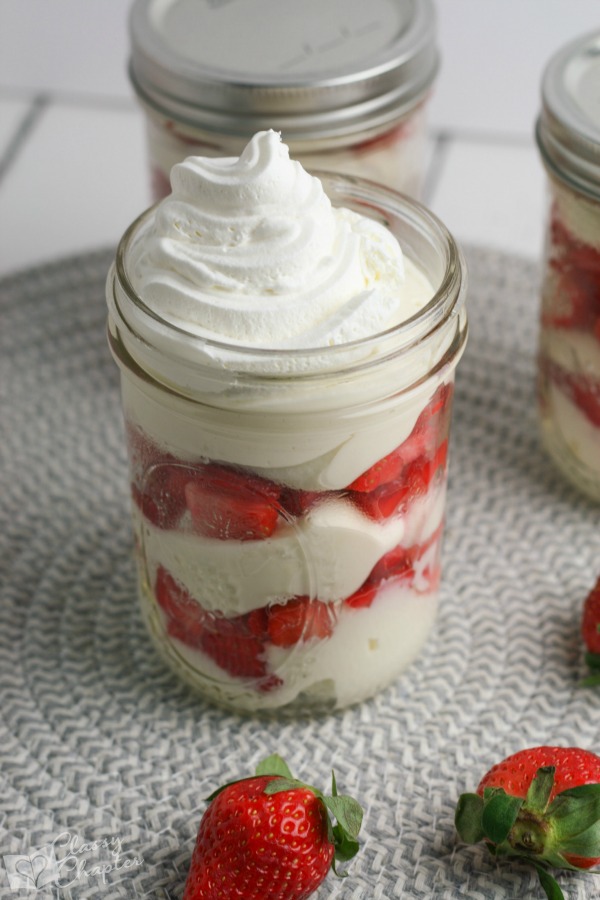 If you love this recipe, you're going to want to try the WW Strawberry Fluff recipe!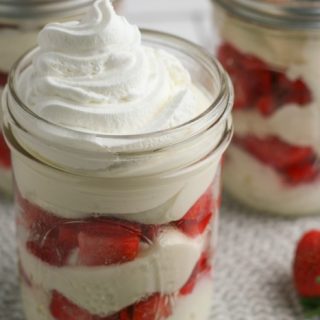 Weight Watchers Cheesecake
Yield: 4

Prep Time: 10 minutes

Chill Time: 1 hour

Total Time: 1 hour 10 minutes
Ingredients
32 oz Plain Non-Fat Greek Yogurt
1 box Small package of fat-free cheesecake pudding mix
2 lbs strawberries, diced
1.5 tsp Vanilla
Instructions
Pour yogurt in a large bowl.

Slowly add pudding mix a bit at a time, stirring between each addition until all the pudding mix has been added. Mix in Vanilla.

Layer 1/3 cup yogurt mixture and strawberries in each jar until the jar is filled and one cup of yogurt has been used.

Place jars in the refrigerator to chill for at least an hour before serving.

Top with lite whipped topping (optional and may increase Weight Watchers Points value).
Notes
Each jar is 1 Weight Watchers SP

Other Popular Recipes
Popular Weight Watcher Recipes
Don't miss these must try Weight Watcher Recipes!
These Weight Watchers Everything Bagels are so tasty and delicious.
The perfect low-point dessert.