Is trust an issue with your marriage? Have there been events that have caused the trust in your marriage to slowly breakdown? Emotional infidelity, extramarital affairs, and other dishonesty will cause your marriage to slowly fall apart. It's hard to trust your spouse when you've lost the ability to trust your spouse.
Thankfully, there are some simple steps to rebuilding trust in your marriage.
I'm not going to say that it's easy because it's not! In fact, it's probably one of the hardest things you will ever do in your marriage.
In order to build that trust back up, you are both going to have to work really hard!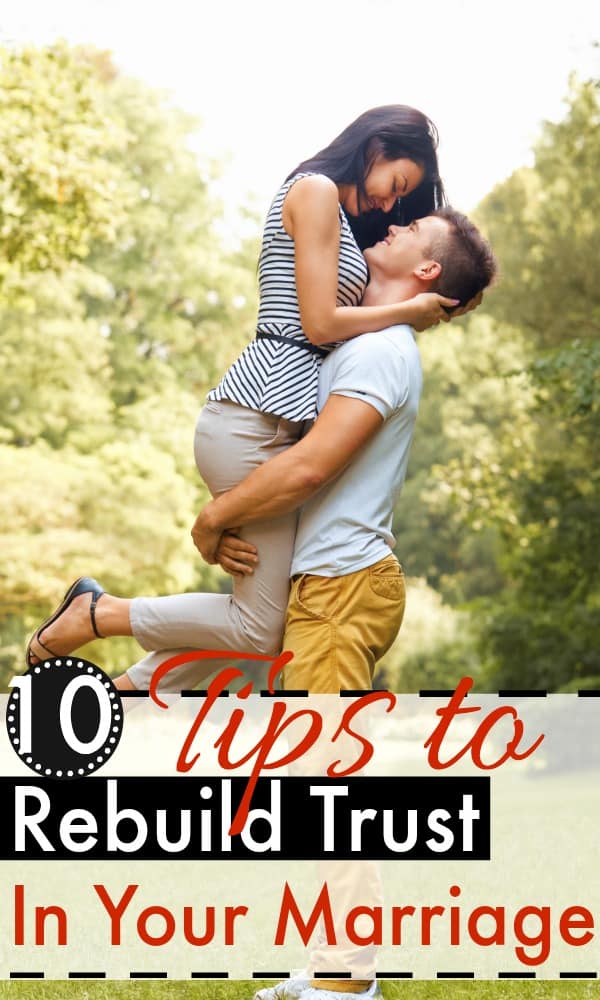 10 Simple Steps to Building Trust in Your Marriage
Be Predictable
Suspicion usually emerges when things go out of the norm. You start wondering why he is doing that or acting like that. When patterns change and your spouse's behavior becomes unpredictable, you start to worry.
Does your spouse normally come home from work at 5:30 but now they are showing up at 8:00 with no explanation?
If trust is a struggle in your marriage both parties need to ensure their actions are predictable.

Let Your Spouse Know of Changes
If something is changing in your life that is going to cause you to become unpredictable, let your spouse know. Maybe there is a big project at work that will require you to work longer hours than normal. Maybe, you've decided that you want to join a softball team with your co-workers. Whatever it is, communicate these changes with your spouse.
Your spouse should never have to wonder what is going on. Your job is to communicate with your spouse at all times!
Watch Your Words
Mean what you say and say what you mean! When you are communicating with your spouse make sure your tone of voice, body language, and facial expressions are matching what you are saying.
If your spouse asks you if something is bothering you, don't just say everything is fine if it isn't. Make sure you are being honest with your spouse even if that means it might cause an argument.
Need some easy communication tips?
[mailerlite_form form_id=9]
Trust Your Spouse to Handle the Truth
Sometimes it is easier to sweep our feelings and concerns under the rug instead of having an honest conversation. Sweeping our concerns and feelings under the rug is never going to help the situation. Part of rebuilding trust in your marriage is learning how to communicate with your spouse.
This is going to be hard in the beginning. In fact, you'll probably go through a lot of arguments while you are both learning how to communicate and listen to each other. Don't let this scare you from having those hard and honest talks.

No Secrets!
Secrets are dangerous.
Secrets can ruin your marriage! When there are secrets in a marriage, the trust is never going to get built back up. You'll always be trying to keep your secret from coming to light.
The first step in rebuilding the trust in your marriage should be to lay everything on the table.
It's much easier to build up the trust when we feel like we know the whole truth.
Share Your Needs
Affairs often start when one feels like their needs are not being met. Have an honest conversation with your spouse about your needs.
Maybe you need more intimacy or maybe you need an hour or two alone in the evenings. Whatever your needs are, let that be known to your spouse. If you are both on the same page, it's easier to make your marriage work.
Show Your True Colors
One of the biggest mistakes people make in their marriage is not being who they really are. Your spouse is the person you decided to spend your life with, so they should know who you really are!
Your spouse should know what makes you happy, what makes you sad and what your biggest fears are.
Spending your entire marriage trying to be someone you really aren't isn't healthy. It's not healthy for you, your spouse or your marriage.
You'll never be able to build up a foundation of trust if you are trying to be someone you aren't.
Ready to Recharge Your Marriage!? Sign up for my FREE email course.
[mailerlite_form form_id=4]
Learn to say NO!
It's okay to have boundaries with your spouse.
In fact, it's healthy to have boundaries and you should have boundaries. You do this by informing the other person of what they are doing. You request they stop. If they don't stop, you demand they stop. If they don't stop you walk away without a snide remark, eye-roll or comment. To some, this seems harsh, but saying NO is RESPECTED. Fear is the basis of mistrust.
When you don't have boundries it's easy to become a doormat in your marriage. You can't build trust with a doormat!
Remain Neutral
When you are having conversations with your spouse, don't come into the conversation defensive. Stay neutral and let your spouse explain their feelings and concerns without feeling attacked. Give your spouse a chance to talk before you react to the conversation.
When your spouse feels comfortable coming to you with concerns or feels of frustration, you are well on your way to rebuilding the trust in your marriage.
Get Dirty
Relationships are an emotional investment. You will have trials, tribulations, fears, turmoil, change and growth.
Be fearless and be committed to getting dirty when things get hard!
Make sure your spouse knows that you are there for them through thick and thin. No matter how messy life gets, you are a team!
You can also (and should) grab the Reclaim Your Marriage Workbook by clicking here!
What tips do you have for rebuilding trust in a marriage? Please share in the comments!
If you enjoyed this post, make sure to check out some of my other popular posts.
Is Your Marriage Setting A Good Example for Your Kids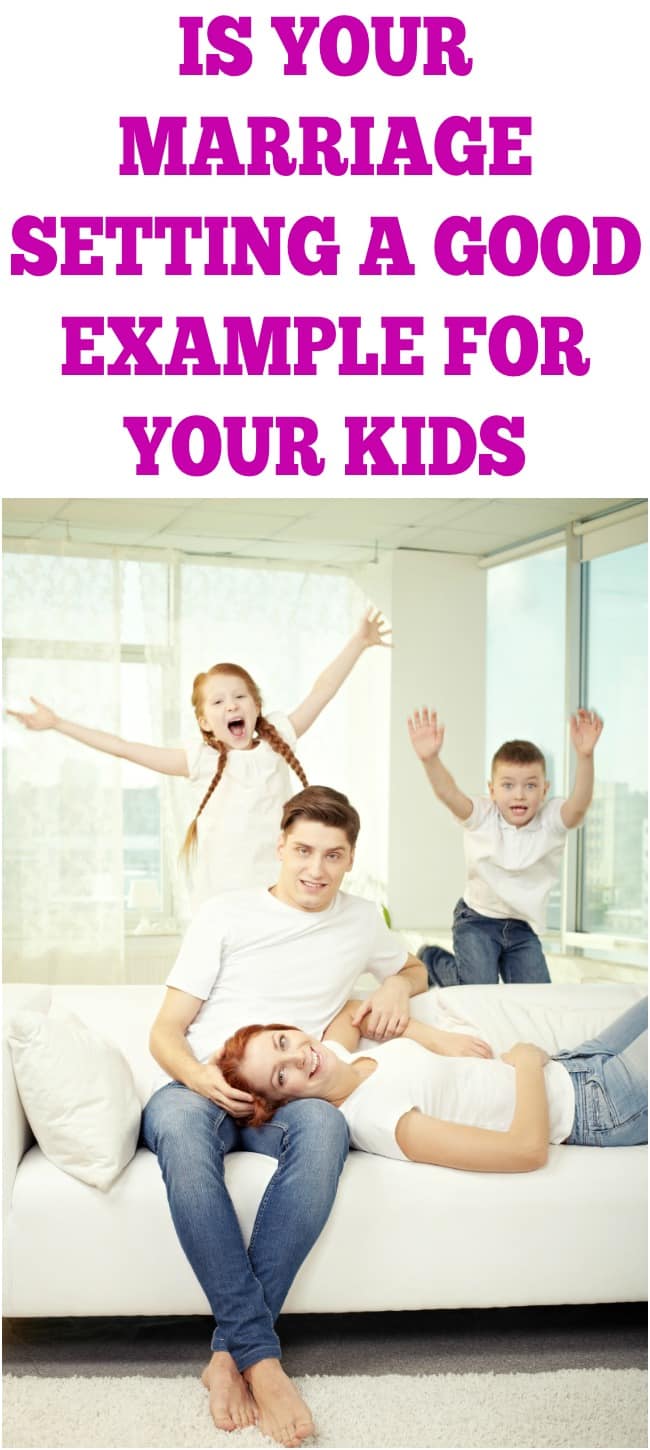 7 Steamy Date Night Ideas to Spice Up Your Marriage