Summer is here and it's HOT outside! Normally in June we are hitting the 85-degree mark but we've already had a few that were in the 100's!
I don't know about you but when it gets that hot out, I don't want to cook! This ultimate list of summer recipes will make life just a bit easier this summer. There is truly something for everyone on this list.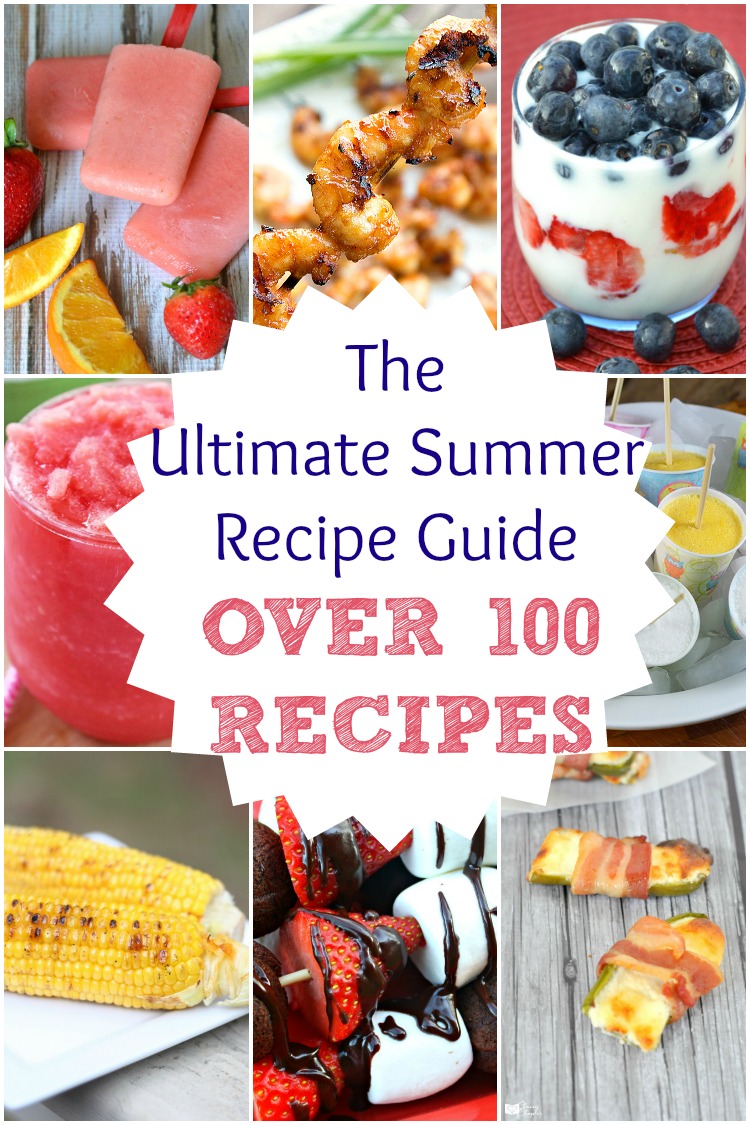 Recipes for the BBQ, drinks, crock pot cooking, desserts and much more!
Main Course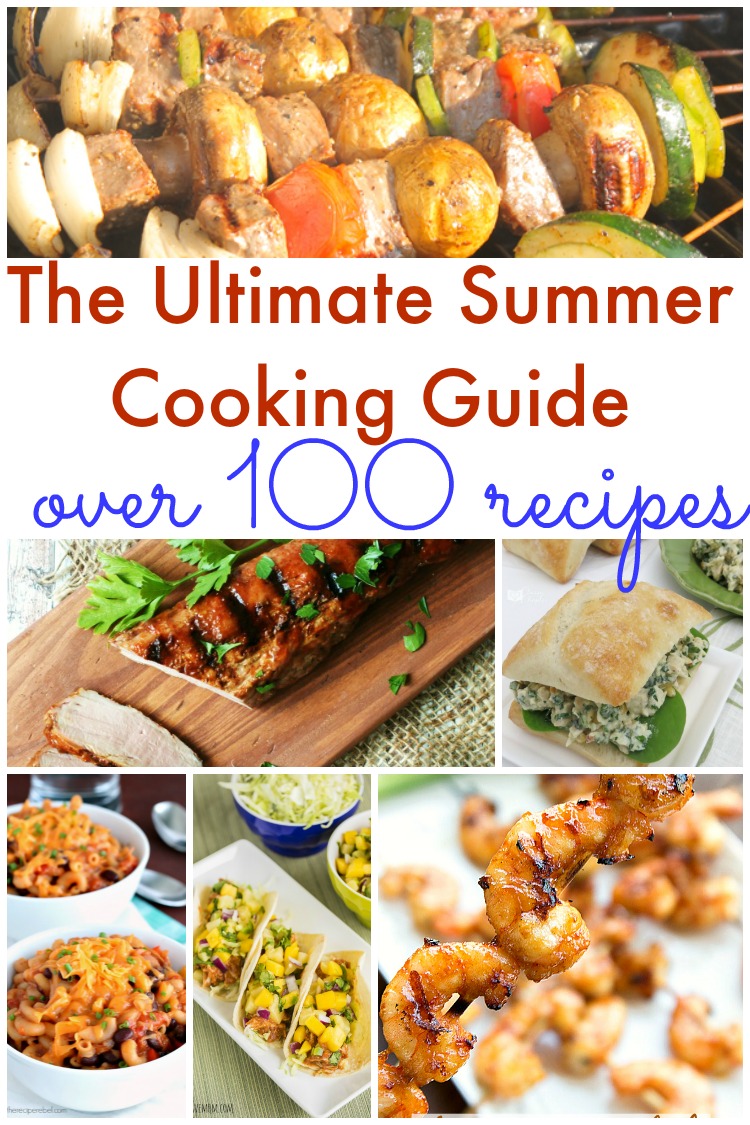 30-Minute Jambalaya from The Classy Chapter
Crockpot Asian Pork Chops from Wife Mom Geek
Cilantro Feta Turkey Burger Wraps from Living Chic Mom
Grilled Steak Salad from Pennies Into Pearls
Pesto Chicken Salad from The Classy Chapter
One Pot Spinach and Sausage Tortellini from Must Have Mom
Slow Cooker BBQ Mac N Cheese from The Recipe Rebel
Summer Pasta Recipe from The SITS Girls
Crock Pot Chicken Tacos from Dear Creatives
Crock Pot Sweet n Spicy BBQ Sandwich from The Classy Chapter
Crock Pot Mac n Cheese from The Gracious Wife
Teriyaki Chicken Pineapple Bowl from Pennies Into Pearls
Asian Marinated Grilled Shrimp from This Silly Girls Life
One Pan Baked Salmon from Mom Endeavors
Al Pastor Tacos from Living Sweet Moments
Crock Pot Sloppy Joes from The Gracious Wife
Crock Pot Pulled Pork Sliders from Living Chic Mom
Chicken Panini Sandwich from The Classy Chapter
One Skillet Steak Dinner from Divine Lifestlyle
Bacon Avocado Strawberry Wraps from Love Bakes Good Cakes
Grilled Pork Tenderloin with Peach BBQ Sauce from This Silly Girls Life
Slow Cooker Beef Brisket from More Or Less Cooking
Chicken Bacon Skillet from The Classy Chapter
Marinated Turkey Cutlets from Must Have Mom
One Pot Goulash from Love Bakes Good Cakes
Grilled Steak Kabobs from Create Craft Love
Hawaiian Chicken Tacos from Must Have Mom
Side Dishes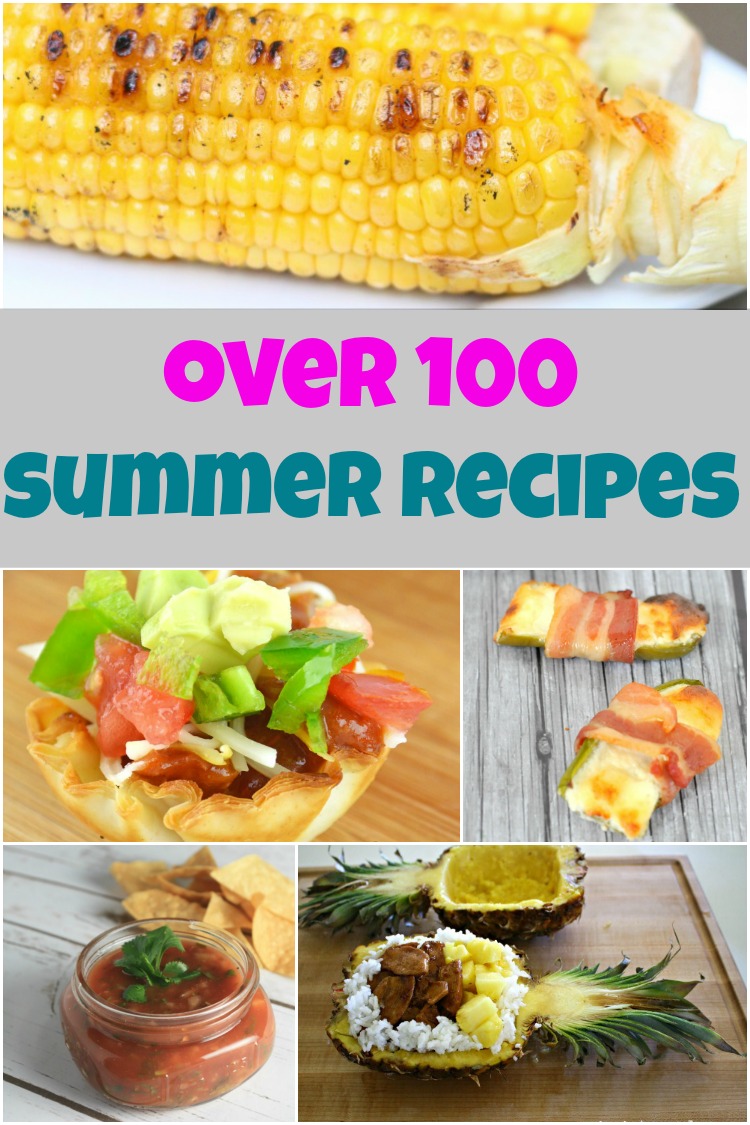 Pigs In A Blanket from Back Roads and Blue Jeans
Grilled Corn from The Classy Chapter
Bite Size Taco Salads from Simplistically Living
Grilled Asparagus from Pennies Into Pearls
Potato Chips In The Microwave from Practical Mommy
Cucumber Sandwich from The Gracious Wife
Mini Vegetarian Caprese Bites from Living Chic Mom
Easy Bruschetta Recipe from The Classy Chapter
Mason Jar Salads from The SITS Girls
Tuna Pasta Salad from The Best Blogger Recipes
Strawberry Quinoa Salad from Practical Mommy
Patriotic Fruit Salad from Simplistically Living
Easy Simple Guacamole from Dear Creatives
Strawberry Harvest Salad from The Princess and Her Cowboys
Easy Salsa Recipe from The Classy Chapter
Greek Panzanella Salad from This Silly Girls Life
Chicken Avocado Bruschetta from Must Have Mom
Dill Pickle Dip from Captivating Corner
Slow Cooker BBQ Baked Beans from It's Yummi
Crap Rangoon Dip from The Classy Chapter
Red Bell Pepper Hummus from Dear Creatives
Strawberry Yogurt Fruit Dip from Simplistically Living
Loaded Cheese Bacon Ranch Dip from Living Mom Chic
Bacon Wrapped Jalapeno from The Classy Chapter
Deviled Egg Potato Salad from The Gracious Wife
Summer Orzo Pasta Salad from A Cedar Spoon
Grilled Chicken Salad with Ginger Sauce from Dear Creatives
Honeydew Cucumber Salad from Simplistically Living
Desserts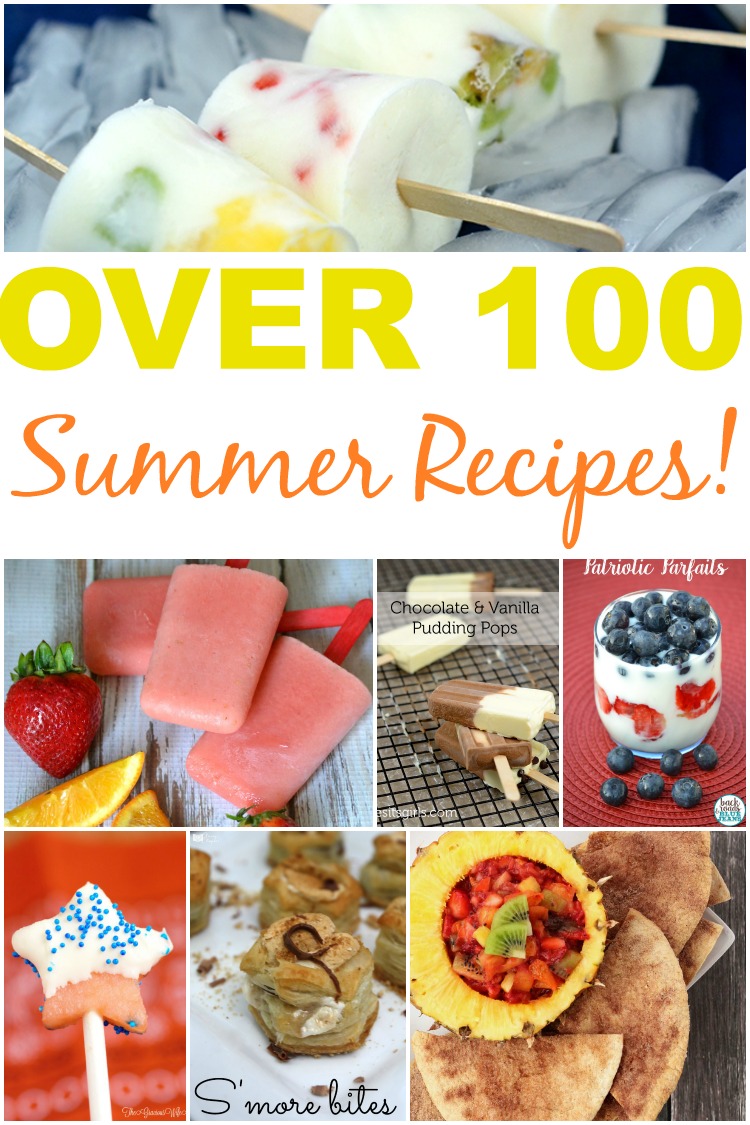 Blueberry Pie Pops from Practical Mommy
Bacon S'Mores from The Classy Chapter
Healthy Veggie Popsicles from Kids Activities Blog
Banana Bites from Wife Mom Geek
Homemade Vanilla Ice Cream from Pennies Into Pearls
Strawberries and Cream Cake from The Princess and Her Cowboys
No Bake Cake Batter Truffles from Who Needs A Cape
Fruit Salsa with Cinnamon Chips from Must Have Mom
Homemade Mint Chip Ice Cream from The Classy Chapter
Easy Pudding Dessert from The SITS Girls
3 Ingredient Banana Ice Cream from Wife Mom Geek
Very Berry Sorbet from Kids Activities Blog
Easy Patriotic Parfaits from Back Roads and Blue Jeans
Cream Cheese Fruit Dip from Pennies Into Pearls
No Bake Strawberry Cheesecake from The Princess and Her Cowboys
Fruit Whip Pops from The SITS Girls
No Bake Lemon Cheesecake Cookies from It's Yummi
S'More Bites from The Classy Chapter
Watermelon Pops from The Gracious Wife
Blondies A'la Mode from Wife Mom Geek
Edible Fruit Arrangement from Pennies Into Pearls
Orange Dixie Cup Popsicles from The SITS Girls
Strawberry Orange Popsicles from Wife Mom Geek
Strawberry Chocolate Kabobs from Pennies Into Pearls
Crispy M&M Malt from The Princess and Her Cowboys
No Bake Peanut Butter Oreo Truffles from Who Needs A Cape
Drinks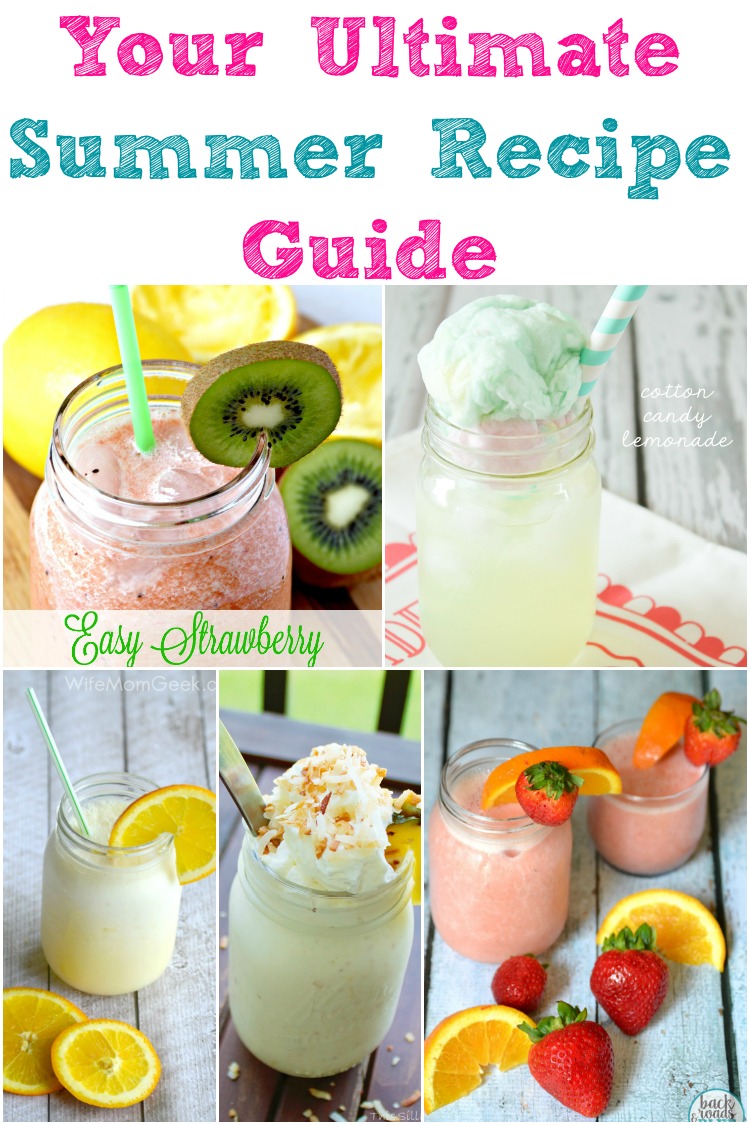 Easy Strawberry Lemonade from The Classy Chapter
Jurassic World Raptor Punch from Simplistically Living
Orange Cream Slushie from Back Roads and Blue Jeans
Creamsicle Slushie from Wife Mom Geek
Cherry Creamsicle from Who Needs a Cape
Berry Blast Smoothie from The Princess and Her Cowboys
Passion Tea Lemonade from Living Chic Mom
Sassy Strawberry Lemonade from Pennies Into Pearls
Copycat Starbucks Cool Lime Refresher from Simplistically Living
Copycat Red Robin Freckled Lemonade from Love Bakes Good Cakes
Aloha Milkshake from This Silly Girls Life
Skinny Chocolate Ice Cube Shake from Butter With A Side of Bread
Raspberry Lemonade Slushie from Simplistically Living
Pineapple Strawberry Dairy Free Smoothie from Living Chic Mom
Kiwi Cucumber Agua Fresca from Tried and Tasty
Skinny Pineapple Banana Strawberry Smoothie from The Best Blogger Recipes
Watermelon Key Lime Slushie from Simplistically Living
Kool Aid Cream Slush from The Tip Toe Fairy
Fruity Blender Punch from Shaken Together Life
Frosted Lemonade Chick Fil A Copycat from Living Mom Chic
Banana Split Milkshake from This Silly Girls Life
Cotton Candy Lemonade from Create Craft Love
Homemade Bug Juice from Simplistically Living
Strawberry Lemonade Ice Tea from The Silly Girls Life
[mailerlite_form form_id=6]